Real Madrid-PSG: Cesc Fabregas aghast at VAR penalty overturn
The former Barcelona midfielder expressed his dismay at the referee's decision to overturn a penalty for PSG against Real Madrid.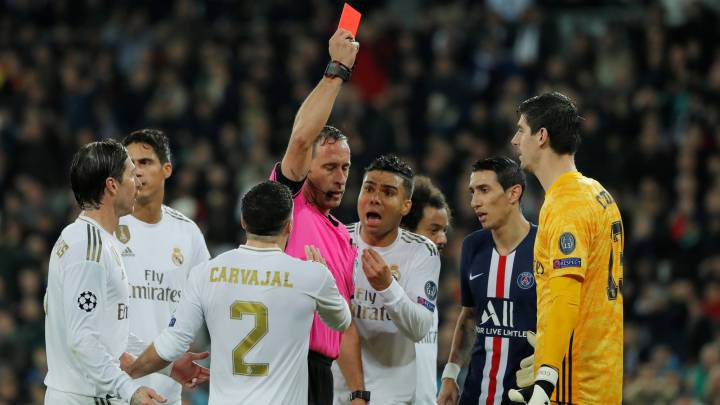 VAR has found itself at the centre of attention again following Tuesday night's 2-2 draw between Real Madrid and PSG.
Referee Artur Dias took everyone by surprise when he decided to overturn a PSG penalty and a red card for Thibaut Courtois after the Madrid goalkeeper had been intially deemed to have fouled Mauro Icardi inside his box.
Having reviewed the play on the VAR monitor, Dias decided to rule a challenge on Marcelo by Gueye in the build up to Icardi's opportunity as a foul, subsequently reversing his penalty decision and giving Madrid a free kick by the halfway line.
The decision drew indignation from PSG players, their coach and many on social media, including former Barcelona and Arsenal player Cesc Fabregas, who was at pains to understand the referee's decision.
Olvidemos colores por un segundo. Como puede pitar falta por ese leve toque? Puedo llegar a entenderlo si lo pita a la primera... pero ir a verlo a una tele y pensar que sigue siendo falta... donde no hay, no hay. 🙈🤦🏻‍♂️

— Cesc Fàbregas Soler (@cesc4official) November 26, 2019
Fabregas dismayed by ref's decisions on Gueye and Courtois
"Let's forget colours for a second. How can you call a foul for that slight touch? I can understand it if he calls it at first," Fabregas tweeted in reference to the Gueye challenge on Marcelo.
"But to go and see it on a TV and then think that it's a foul... where there is no foul, there is no foul."
While the Monaco midfielder believes the penalty decision should not have been overturned, he could also not understand the referee's initial decision to send Courtois off for the challenge on Icardi.
"The same thing with the red card for Thibaut, yellow maximum, my god," added Fabregas on Twitter.
The game eventually finished 2-2, with PSG securing the top spot in Group A, while Madrid are guaranteed second.