3
Luis Suárez 28',
Messi 32',
Griezmann 66'

1
Messi leads Barcelona to easy win over Borussia Dortmund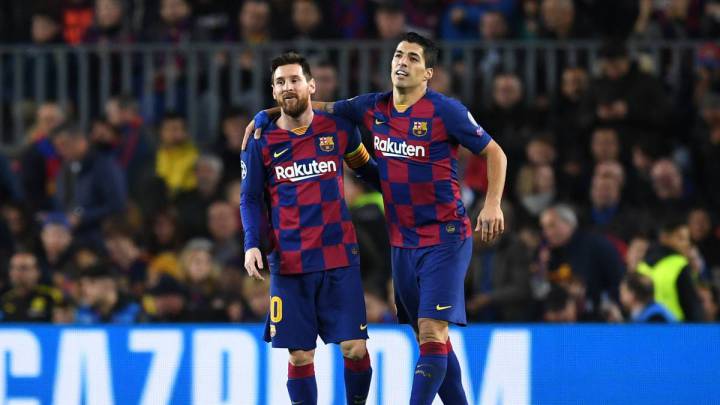 Barcelona vs Borussia Dortmund: as it happened!
Suarez off for Ansu Fati.
Three minutes of added time.
Into the last minute of normal time.
Ter Stegen saves Barcelona's blushes here and from turning this into a game. Sancho piledrives one and he touches it onto the post. Brilliant strike and even better save.
Vidal gets the ball on the right but he's offside. Barcelona pushing for a fourth.
Brandt is offside as Witsel clips it forward into the penalty area.
Rakitic off for Arturo Vidal.
Sancho with the finish. He absolutely buries that one. Brandt the man with the ball to him as he twists and turns and drives home. 3-1.
Brandt again. Ball in from Reus and he pokes it towards goal as Ter Stegen gathers.
Piszczek off for Zagadou.
Messi takes the free from way out on the right. That hit the corner of the post. Incredible how he managed that.
Suarez into the path of Sergi Roberto. Not entirely sure that it was the intended target but Guerreiro takes him down and it's a yellow for the left-back.
Busquets barges into Witsel and gets himself into the book.
Messi with a beautiful run again and he passes into the path of Griezmann. Messi is having another one of those games. They are so regular now that we don't even talk about them anymore. He has been completely sensational tonight.
Chance for Barcelona. The first in a while as Sergi Roberto sends one across the box and Messi nods it wide.
They're controlling possession that is but not really controlling the game as Barcelona can attack at will. They're just preserving energy.
Brandt with a toepoke towards goal. Ter Stegen denies him. That's a good chance for Dortmund as they start to control the game now.
Achraf muscles off the ball by Lenglet and it's out for a goalkick.
Akanji hits the hoarding behind the goal as Suarez bundles him over. He hit his head off it and that looked sore but he's okay.
Yellow for Messi for diving. Griezmann lays it ff to him and he drives forward. He gets clipped, maybe, from Burki and hits the ground. He gets a booking for diving.
Dortmund trying to press but even that's disjointed. Ter Stegen picks out a ball over the top and into midfield.
Griezmann takes Weigl out of it. Fairly tame start to this half. Dortmund are struggling and Barcelona just keeping them at arm's length. They could score six tonight.
Messi with a perfect pass to Griezmann from Sergi Roberto's pass into the middle. Burki forced into an excellent save. Should have been three.
We are back underway at Camp Nou.
All too easy for Barcelona. HALF-TIME!
Lenglet down injured as Reus catches him in the ribs while he is in the air. He is okay to continue though.
We have two minutes of added time here.
Ref catches a Suarez pass straight to the face. He hits the ground and play stops. Griezmnn holds up two fingers to see if he can see okay.
Barcelona utterly comfortable here. Achraf launches one from distance but that one lands in Madrid.
Messi with a ball over the top for Griezmann but it's a little too close to the Dortmund defender. Suarez tries a lob and it's over the bar.
GOAL! Messi with the second. Suarez repays the favour this time and lays it off to Messi, who finishes with a left-footed strike.
Griezmann and Dembele team up and win it off Witsel but they foul him in the process.
Griezmann bundled over in the box. No penalty and Witsel gets it away. This is all Barcelona here. Dortmund can't catch their breath.
Messi with a lovely run and shot. Stings the palms of Burki. He gets it again and Griezmann fires across the box. Nobody there waiting for it.
Messi to Suarez and there's no mistake this time. Messi faked a shot, played it to Suarez and he finishes. Hint of offside but replay shows it wasn't.
Dembele off for Griezmann.
Dembele down injured. He has hit two boots off and looks to be really uncomfortable. He is going to have to go off.
Game is opening up a little bit and Barcelona are enjoying the better of it.
Now Schulz breaks and receives the ball from Hakimi. A mile offside but the flag stays down and eventually goes up.
Witsel is down injured. He slides into a challenge with Rakitic and comes out worse off.
Dortmund looking dangerous down the wings with Schulz and Hakimi. Nothing really doing in the middle for them so far.
Dortmund just coming into it a little bit more now and pushing Barcelona back a little bit. No chances since that early one though.
Luis Suarez gets taken down by Hummels after a nice step-over. No yellow and maybe Suarez a little lucky there but it's a free for Barcelona.
Dembele with a strike. Hummels takes Messi down but play continues and he got the ball. The French attacker strikes and it dribbles into the keeper.
Nico Schulz with a run down the left. He centres to a couple of yellow jerseys but nobody in particular. De Jong recovers.
Messi's free is low anyway but Busquets blocks it.
Rakitic with a pass to Messi and he gets hauled down. This is the Messi Zone.
Dortmund finally get a spell on the ball but Barcelona are pushing them all the way back. They force a lon kick and Barcelona win it back.
Dembele with a ball into the box. Rakitic shoots and it's blocked.
Dembele with a pass to Rakitic and he nearly plays it back to him. Too tight in the penalty area though as Dortmund get it away. All Barcelona!
Dortmund stifling Barcelona in the final third but can't break when they win it back. Fairly constant pressure from Barcelona to start.
Dembele linking up with Messi well early on. They lose it though as Dortmund attack and then lose it themselves. Barcelona back on the front foot.
Dembele with a lovely little pass to Rakitic. He wins a corner.
First attack for Dortmund and it's nearly a goal. Hakimi cuts it back and Schulz nearly turns it home...not once but twice! Wide in the end after Umtiti cleared off the line.
Dortmund wearing their all yellow strip. Barcelona in their azulgrana.
Barcelona get us underway. Suarez plays it back to Busquets.
We are ready for action at the Camp Nou!
Teams are in the tunnel! Messi makes his way to the top of the queue as he waits to lead his team out. Marco Reus to lead Dortmund out.
Lucien Favre is falling out of favour fast at Dortmund. They drew 3-3 against Paderborn after falling behind 3-0. They have had a couple of good comebacks in recent weeks with the 3-2 win over Inter Milan after going down 0-2 also. Favre would prefer to not fall behind tonight, I'm sure though.
612 goals in 699 games for Messi too.
Dortmund XI: Burki, Piszczek, Hummels, Akanji, Schulz, Weigl, Witsel, Hakimi, Guerreiro, Reus, Brandt.
Griezmann says he is struggling with decision-making. He wasn't great against Leganés and loses out tonight.
Lack of confidence: "I'm in the process of learning and understanding how my team-mates play as everything is new to me. I'm still trying to read the runs and off the ball movement from the likes of Luis Suárez, Leo Messi and Ousmane Dembélé along with the midfielders. It's my intention to get to grips with this as soon as possible so I can offer my all to the team but at times it's tricky. At present when I get the ball I have a certain lack of confidence in when to pass or when to shoot on goal, this I'm sure is something that will change with the passing of time".
Griezmann said he "came to Barcelona to learn a new style". He is learning what it's like to be on the bench and just four days out from the Atlético game, that won't do his confidence any good.
Antoine Griezmann is left out at home again by Valverde. Dembélé is preferred and it looks like it will be a 4-3-3.
Barcelona XI: Ter Stegen, Rakitic, Sergio Busquets, Suárez, Messi, Dembélé, Lenglet, S. Roberto, De Jong, Umtiti, Junior.

As you can see, it's tight at the top of Group F. Barcelona are not yet through and could still lose out in what is a very tough group. They need to win tonight, to start, and hope Inter don't take all three points from their game. That would see them through.
Hello and welcome to our live online coverage of Barcelona vs Borussia Dortmund at Camp Nou. Kick-off coming your way at 21:00 CET.
.