"Barcelona didn't want to pay Fede Valverde asking price"
Peñarol vice president, Rodolfo Catino, recalls the interest in Real Madrid's new star from Barça, Arsenal and Manchester United, all of whom, he feels, made the wrong call.
Rodolfo Catino, current vice president of Peñarol, is someone who knows Fede Valverde more than most because he was with him in the early stages of his incredible journey to the Real Madrid first team. He remembers the interest that was generated in the midfielder in Uruguay and reveals how FC Barcelona (as well as others) lost out, once again, to their bitter rivals on a young star.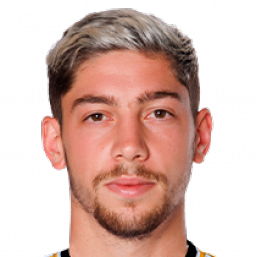 The 'Valverde effect' back home
Catino spoke passionately about the pride back in his homeland for the boy that arrived at Peñarol at just 10 years of age that has rocketed to stardom in LaLiga and the Champions League. And he believes that there is no limit to his progression.
"Valverde is going to win the Ballon d'Or," he predicted confidently. "He is one of the great players that this land has produced, along with Luis Suárez and Diego Forlán.
"I don't know if it will be this year or in the next two years, but he will win it because he has an elegance that nobody else has. He understands football and all that that means."
Arsenal, United, Barcelona
The 21-year old looks very comfortable in the white of Real Madrid but Catino explains that there were other big clubs that noticed his talents earlier, with Premier League side Arsenal the first.
"Arsenal invited him to visit their facilities when he was 16 years old. We agreed to it, although we told him that he was not going to play because we were afraid he may get injured.
"But Arsenal insisted that he should play and we agreed to an insurance value of six million euros in case of any injury. A few months later they came to Montevideo to sign him, but their offer was very low and we did not reach an agreement."
"[Manchester] United and Barça also saw him. United withdrew quickly and Barcelona did not want to pay the asking price, they did not get near our valuation. They lost out on a great player for not making that financial effort."
Madrid saw something special
Catino believes that Los Blancos took a chance on young Valverde without breaking the bank, and it has very much paid off.
"Madrid put their faith in Fede because Juni Calafat had seen something special. They paid the five million, plus there were other variables.
"It has been shown that they were right in their decision."