FOOTBALL
Nine celebs who almost became pro footballers
Julio Iglesias played for Real Madrid Castilla, while Pope John Paul II was a talented goalkeeper in his native Poland before he dedicated himself to the clergy.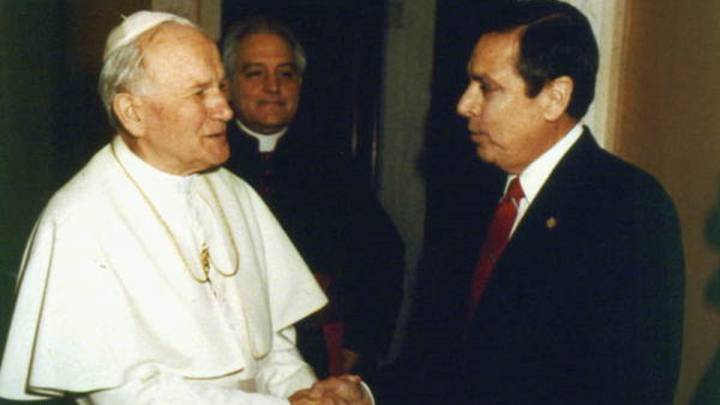 Robbie Williams
The pop Superstar played briefly at current League Two side Port Vale FC before going on to become a member of one of the most successful boybands in history, Take That.
Antonio Banderas
The Spanish actor was a talented footballer who played for several youth teams in and around his hometown of Málaga, Spain. But his dreams of playing professional football ended when he mangled his foot at 14.
Jon Stewart
The well-known comic played soccer as a winger for his University soccer team at William & Mary and became a varsity starter by his senior season.
Pope John Paul II
The former deceased Pope was a talented goalkeeper back in his native Poland, playing for his local team in Wadowice. He was also a supporter of Polish club Cracovia.
Andy Murray
The Wimbledon champion almost came close to joining Rangers in his youth. But after a trial with the club, he decided to dedicate his time to tennis.
Rod Stewart
Rod Stewart briefly played for Brenton Football Club and made the side's second team. But he quit soon after to focus on his music.
Dan Lawless (Iron Maiden)
The Iron Maiden bassist is a die-hard West Ham fan and played for the youth team as a teenager. "It was great, but 14 is the wrong age really," he told Kerrang! magazine in 1992. "Because all I wanted to do was start having a few beers and meet a few birds – which doesn't mix with playing football. They want you in bed early and all that stuff."
Gordon Ramsey
The celebrity chef was monitored by Rangers as a youth and played a couple of non-league matches as a trialist. But a knee injury ended further hopes of being signed by Rangers.
Julio Iglesias
Julio Iglesias was a goalkeeper for Real Madrid's second team, Real Madrid Castellana in the Segunda Division. But his professional football career was ruined when he was involved in a serious automobile accident.