1
Barcelona's Leo Messi breaks Atlético Madrid hearts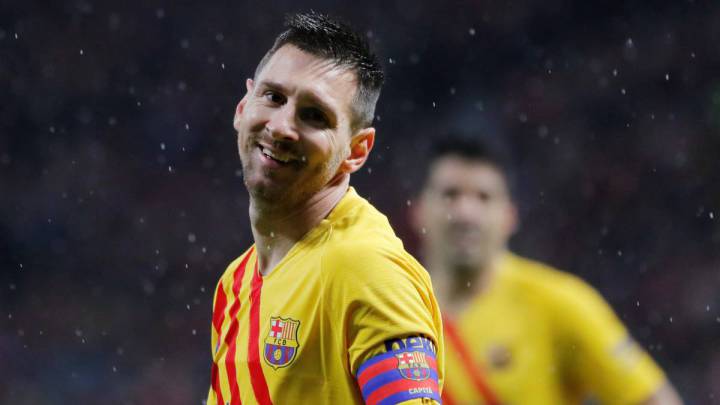 Atlético Madrid 0-1 Barcelona: as it happened
Peep peep peep! It's full time at the Wanda Metropolitano, where Lionel Messi's lovely, peak-Lionel-Messi goal is the difference between the sides!
Atlético really deserved to come away with at least a draw tonight, but quite simply didn't take their chances. Barcelona spurned a few of their own, too, but just when the game looked like ending up as one of the most entertaining 0-0 draws this humble scribe has had the pleasure of witnessing, Messi made no mistake on a late Barça break, and secured the points for the visitors.
All of which means that Barcelona go back to the top of LaLiga, leapfrogging Real Madrid on goal difference, while Atlético end the weekend down in sixth. Oh, and Diego Simeone still hasn't beaten Barça in LaLiga as Los Colchoneros' head coach...
That's all from me - thanks for reading!
One final chance for Atlético to create an equaliser. Trippier is brought down on the right flank and it's a very dangerous free-kick for Los Rojiblancos. Oblak's up for it... but Barça get Koke's delivery clear, and that will be that!
Oblak stands over an Atlético free-kick on the halfway line. Everyone's in the Barça area. The goalkeeper thumps it long onto Hermoso's head, but the centre-back nods it straight at a yellow shirt.
Moments later, though, Koke has a shooting chance for Atlético on the edge of the box... but sees his effort blocked. The hosts then work it wide to Lodi, but his cross into the area is right down Ter Stegen's throat.
Lodi pings a searching ball towards Hermoso on the right-hand side of the Barcelona box... and the defender gets his control all wrong. Three minutes of added time.
Atlético respond by throwing on Lodi for Herrera.
Messi scores the most Messi-esque goal there is! Barcelona lead!
As Barça break, Messi carries the ball towards the top of the Atlético penalty area and, with Sergi Roberto making an intelligent decoy run across his captain, the Argentine plays a one-two with Suárez and curls a low effort into Oblak's right-hand corner! Have Barça snatched victory at the Wanda?
Messi wins a corner, which he takes short to De Jong. The Dutchman shifts it on to Roberto, who is fast asleep and mis-controls. Atlético take advantage of the chance to break through Trippier, but Barcelona swiftly win it back, and...
Piqué can't continue, and is replaced by Samuel Umtiti. He's walking relatively freely as he makes his way to the Barça dugout, though, so I don't think he's done himself any serious damage.
Just under 10 minutes to go at the Wanda. How is it still goalless?
Piqué is back on, but looks less than comfortable.
Vitolo, who has already picked up one yellow card in his short time on the field, goes flying in on Piqué and should surely be given his second booking for that... but doesn't. I don't understand. Has Mateu Lahoz left his red cards in the changing room, or something? Piqué looks like he can't continue.
Messi almost gets Vidal into space to shoot inside the penalty box, but Oblak is quickly out to grab onto the ball.
Barcelona make their first substitution, replacing Arthur with Arturo Vidal.
Atlético also make a change, replacing Correa with Thomas Lemar.
Felipe is the next man into Señor Mateu Lahoz's book after pulling down Arthur.
I can't keep up; it's all happening right now. Atlético get Correa into crossing space on the right-hand side of the box, and when he fizzes the ball across goal, Morata's backheel is cleared from under the posts by Roberto!
Atlético are furious. Piqué brings Morata down with a late challenge... but escapes a second yellow card. Simeone can't believe it over on the touchline. The Barcelona defender is a lucky, lucky boy. I'd say it was a booking, personally.
Vitolo gets the most deserved yellow card of his life for his efforts to curtail Messi's break.
From one end to the other. First, Ter Stegen has to look alive to grab the ball as Lenglet chests Koke's cross towards his own goal. There are shouts for handball by the Frenchman, but replays show this wasn't the case.
Barça break through Messi, who scythes through the Atlético midfield despite the Atlético midfield's attempts to scythe him. He lays the ball off to the left to Suárez, who lifts it to Griezmann at the opposite post... but he blazes his volleyed effort over! Cue deafening derision from the home fans.
Atlético boss Diego Simeone makes the first change of the night, bringing off Joao Félix for Vitolo. The home supporters don't sound all that pleased at the decision to take off the Portuguese.
Lenglet earns himself a yellow for a foul on Morata. Moments later, there are not entirely persuasive shouts for an Atlético penalty after Correa tangles with Firpo inside the box. Nothing given, and rightly so.
Barcelona get Messi into shooting space on the edge of the penalty box once more, but his low strike is blocked by Hermoso.
Barça again create a decent opening. Atlético have a free-kick on the right, but in the blink of an eye the guests clear and get Sergi Roberto charging at a backpedalling defence on the right. He perhaps takes a moment or two too long to make his mind up before playing a low ball across the top of the box to Suárez, whose first-time shot is right at Oblak.
Just as the clock ticks towards the hour mark, Messi drives towards the top of the Atlético penalty area and slaps a low strike towards Oblak's bottom corner, but - with Suárez primed to gobble up the rebound - the keeper grabs hold of it at the second time of asking.
Meanwhile, the Wanda fans belt out a chant that is not entirely complimentary of Griezmann, let's just say.
....the hosts carve out openings first for Thomas, then for Correa! Herrera leads the break, before feeding Morata. The centre-forward looks up and slides the ball into Thomas' run into the box, but when he is dispossessed, the ball breaks to Correa, whose effort is deflected away from danger!
Suárez is not happy with Sergi Roberto, as the right-back tries to head Rakitic's back-post cross to Griezmann with the Uruguayan in space on the penalty spot. And when Atlético break...
After weathering a spell of Barcelona possession just outside their box, Atlético look to break, and almost get Correa racing away down the right - but Lenglet is in position to nick the ball off the Argentine's toes.
Rakitic is booked for bringing down Morata, and Atlético have a chance to swing the ball into the penalty area. It's cleared for a corner, which Koke will take. And which Koke will ping right down Ter Stegen's throat.
Atlético finally get themselves on the attack, but after popping the ball about in front of the Barça defence for about two minutes, Correa's attempt to lay the ball off for a Herrera shot is cut out, and the chance is lost.
Barça win a free-kick in the left-hand channel, but Messi's delivery is headed safely away. The Blaugrana get the ball right back, though. Atlético are still to get a sniff of it so far in the second period.
It's all Barcelona ball for the first couple of minutes, before Griezmann spins and pings a hopeful shot on goal from distance, which Oblak holds onto with the minimum of fuss.
Peeeeeep! We are back up and running at the Wanda. No changes for either Atlético or Barcelona.

Peep peep peeeeep! Mateu Lahoz calls time on what has been an enthralling first 45 at the Wanda.
Atlético were absolutely all over Barcelona for the first 30 minutes or so and, but for Ter Stegen and his right-hand post, would surely have at least one goal to show for themselves from that half.
However, Barça came into it in the closing stages of the period, and might also have got on the scoresheet themselves - particularly when Piqué headed against the crossbar.
After a magical bit of play by Messi, Barcelona's far-post cross is headed out only as far as Júnior... but he seems to hesitate for a split-second, and it's just enough time for a red and white shirt to get in the way of his volleyed shot.
It's been a great first half.
Piqué heads Arthur's delivery onto the crossbar! "It's a miracle that it's still goalless!" cries Spanish TV commentator Carlos Martínez. He's not wrong.
It's much more even now. Having almost conceded, Barcelona create a shooting chance of their own, Arthur firing an effort that is deflected out for a corner off Morata's back. One corner becomes two, and...
Fine save by Ter Stegen! Having lost their strangelhold on the match in recent minutes, Atlético hit back with another chance to score, but again the Barcelona goalkeeper saves the day. Trippier's corner is delivered straight onto Morata's head, but the striker's firm effort is superbly beaten out by Ter Stegen!
Barcelona win a corner... which is pumped straight down Oblak's gullet. Simeone urges calm from his players, who have started to lose control of the game in the past few moments.
Suárez gets to the byline and cuts the ball back into the danger area, but Atlético clear. Moments later, though, the Uruguayan is back on the attack, picking up a Griezmann flick on the edge of the box and thumping a shot inches wide! Barcelona are coming back into now; they'd been thoroughly second best for the first half hour or so.
Just for a second Messi looks to be in behind the Atlético defence, but Hermoso and Saúl do excellently to crowd him out and limit the damage to the concession of a corner. Messi's first touch to take himself into the area was a thing of beauty. His delivery from the corner isn't, however, and Atlético have a goal kick.
Piqué does go into the book, though, after being nutmegged by Félix and being left with no option but to tug him back. Cue ironic cheers from the Wanda faithful.
Atlético's players are furious with Mateu Lahoz after Rakitic escapes a yellow card for hauling down Morata. I'd say the Croat was very lucky not to be booked.
Messi and Griezmann both send in crosses that Atlético clear without too much trouble but, encouragingly for Barça, they are finally enjoying their first period of prolonged possession in the Atlético half.
There's a first chance for Barcelona! Having passed up a hatful of opportunities, Atlético are almost made to pay for their prolifgacy when Messi releases Ivan Rakitic in shooting space just inside the area - but the midfielder's low shot is weakly struck, and Jan Oblak holds onto it.
Close from Herrera! Atlético win the ball back in a dangerous area as Barcelona try to bring it out, before it's fed to the midfielder. He looks up and attempts to curl the ball into Ter Stegen's left-hand corner... but sends his effort just wide!
Correa was booked a few moments ago for a foul on Frenkie de Jong, by the way.
Sergi Roberto's cute backheel finds Messi's run into the Atleti box, but the forward is crowded out of it. With over 20 minutes now on the clock, that's the first time Messi has had the ball in a particularly dangerous position.
...and after Koke's ball into the box is cleared, Joao Félix swings a cross over from the left - and Hermoso must score, but doesn't! Félix's ball finds the defender five yards out and in acres of space, but his sidefooted strike is - somehow - kept out by Ter Stegen. Atlético have been all over Barcelona so far, and could easily be 2-0 up by now.
Another foul by Júnior gives away another threatening free-kick for Atlético, and also costs the left-back a yellow card. Koke and Saúl Ñíguez stand over the set piece, which is right on the corner of the penalty box.
Morata heads just over! It's a typically inviting cross from Trippier, but the striker doesn't quite time his jump right and nods over the crossbar. He thinks he should have had a corner, but doesn't get one. It did appear to nick a yellow shirt on its way out.
Correa pivots neatly and feeds Trippier, whose cross is finally dealt with by Piqué, only for Júnior to give away a cheap free-kick over on the right-hand touchline after less than subtle shove. Trippier to deliver...
Barcelona have offered absolutely naff-all going forward so far.
Atlético win another corner. They've had much, much the better of these opening 10 minutes. It comes to nought, but it's Atleti ball once more.
Thomas Partey becomes the first man to go into Antonio Mateu Lahoz's notebook after a mistimed lunge on Ivan Rakitic.
Mario Hermoso goes so close to putting Atlético ahead, via a touch off Júnior Firpo's boot! The ball is headed back into the area, where Hermoso chests down and barrels his way to the byline, before fizzing it across the face of goal. It flicks off Firpo's foot and bounces back off the far post! What a let-off for Barça.
Kieran Trippier does well to release Ángel Correa on the right flank, where the Argentine finally wins a corner kick off Clément Lenglet.
And after Trippier's delivery is initially cleared...
By the way, I completely neglected to furnish you with details of Barcelona's subs bench. It is as follows: Aleñá, Neto, Fati, Umtiti, Wagué, Vidal, Pérez.
Griezmann gets his first touch. It's not greeted with polite applause.
Atlético Madrid begin on the front foot, pinning Barcelona back in their own half in the opening 90 seconds or so, before Álvaro Morata tries his hand at scoring a worldie from 30 yards - and succeeds only in sending a trundler well wide of Marc-André ter Stegen's right-hand upright.
Peeeeep! We're underway at the Wanda.
By the way, Barcelona will this evening be giving a debut to their new change kit, which is inspired by the Senyera, the Catalan flag.

Mateu the man in the middle
Our match referee at the Wanda Metropolitano is Antonio Mateu Lahoz, AKA the Spanish Mike Dean.

The rain in Spain falls mainly on the game
It's absolutely pelting down with rain in Madrid this evening, incidentally.

Barcelona start in third, Atleti outside top four
Here's how things stand in LaLiga, by the way. Having won just one of their last four games in LaLiga, Atlético start tonight's game now down in sixth, but can draw level with Barcelona with a victory tonight.
After starting matchday 15 top of LaLiga, wins for Real Madrid and Sevilla mean Barça need three points tonight if they're to avoid ending the weekend in third.
Still no league wins against Barcelona for Simeone
...after all, Diego Simeone is still to beat Barça in LaLiga since taking charge of Atlético Madrid in December 2011. So far as Atleti boss, the Argentine has faced the Blaugrana 15 times in the Spanish top flight without coming away with the three points.
One win in six for Atlético
The midweek reverse in Turin is also a result that means Atlético have won just once in their last six games - and recent history suggests that a league clash against Barcelona is not the ideal stage on which to improve on that form...

Griezmann and Barça come into this evening's clash having sealed their passage to the Champions League last 16 as winners of Group F on Wednesday, after defeating Borussia Dortmund 3-1 at the Camp Nou.
A day earlier, meanwhile, Atlético fell to defeat against Juventus in Europe's premier club competition, losing 1-0 to a wonderful, wonderful Paulo Dybala free-kick.
It's a result that means Los Colchoneros are not yet in the knockout stages, and must win to be sure of qualification when they face Lokomotiv Moscow in their final Group D match on 11 December.
Plaque pain for Griezi
Indeed, that frosty welcome for Griezmann has already begun - just look at the state of the Frenchman's plaque outside of the Wanda Metropolitano.
Trio of changes for Barcelona, too
There are also three changes for Barcelona: Gerard Piqué replaces Samuel Umtiti in defence, Arthur is in for the suspended Sergio Busquets in midfield and Antoine Griezmann comes into the attack in place of the newly-injured Ousmane Dembélé.
Saúl, Correa and Félix in for Atlético
Atlético head coach Diego Simeone makes three changes to the side that lost to Juventus on Tuesday, with Saúl Ñíguez preferred to Renan Lodi at left-back, Ángel Correa starting in midfield and João Félix in for Vitolo in attack.
After substitute appearances against Granada and Juve, that's Félix's first start since returning from a four week-long injury absence at the end of last month.
Barcelona team news
Starting line-up: Ter Stegen, Roberto, Piqué, Lenglet, Firpo, Arthur, De Jong, Rakitic, Messi, Suárez, Griezmann
Atlético Madrid team news
Starting line-up: Oblak, Trippier, Felipe, Hermoso, Saúl, Correa, Herrera, Thomas, Koke, João Félix, Morata
Substitutes: Adán, Arias, Lodi, Lemar, Llorente, Vitolo, Saponjic
Team news in!
That's a little over an hour away, and the team news has just come in. Stand by...
Hola a todos!
Good evening! A warm welcome to our live coverage of the fixture of the weekend in LaLiga, as Atlético Madrid host Barcelona at the Wanda Metropolitano at 21:00 CET.
.