Barcelona player ratings: Messi, Ter Stegen shine in Atlético win
Marc-André ter Stegen and Lionel Messi were to the fore for Barcelona as the Blaugrana beat Atlético Madrid 1-0 to return to the top of LaLiga.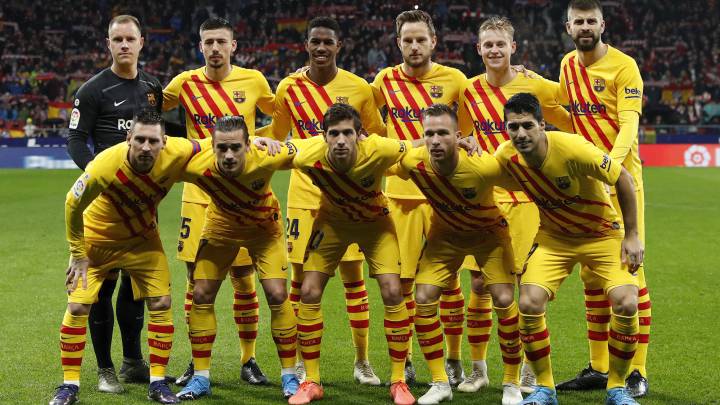 Marc-André ter Stegen:
A brilliant performance from Ter Stegen, particularly in a first half in which he pulled off two memorable saves to deny Atlético Madrid: firstly, the German somehow kept out a Mario Hermoso shot from point blank range, before beating out a bullet Álvaro Morata header. Lady Luck also smiled on Ter Stegen when Júnior Firpo diverted Hermoso's low cross past his goalkeeper, only for it to rebound back off the post. Atlético didn't apply the same fierce pressure on the Barcelona goal after the break, ensuring Ter Stegen an easier-going time of things in the second 45.
Sergi Roberto:
Roberto put in an excellent display on the right flank. Focused in defence and courageous in attack, the Barcelona youth product is improving with every game and starting to show the kind of form that opened the doors of the Spain team to him. If he keeps on playing like this, he has every chance of being part of La Roja's Euro 2020 squad.
Gerard Piqué:
A good game by Piqué, who might even have scored - but was denied by the crossbar. Having already been booked, he came close to seeing a second yellow after a foul on Morata, but was spared further punishment by referee Antonio Mateu Lahoz. Excellent in the air and when bringing the ball out, he was unfortunately forced off in the second half after a robust challenge by Vitolo.
Clément Lenglet:
A performance that should be played back to youngsters learning how to play centre-half. Authoritative in the air and brave in the tackle, he always kept things simple when it came to clearing the ball and, with left-back Júnior Firpo leaving all manner of spaces behind him as he forayed forward, Lenglet was there time and time again to cover for the former Real Betis man.
Júnior Firpo:
Disastrous - and that's being kind. Particularly in the first half an hour. Dreadful in defence and ineffective in attack, he committed unnecessary fouls, was close to scoring an own goal, lost stupid balls and, all in all, was a burden to his team. Thankfully, in the second half he got his act together to some extent and at least did not make any grave errors. The conclusion is clear: Jordi Alba, come back quick.
Ivan Rakitic:
Although Rakitic had his pocket picked on the odd occasion, allowing Atlético to launch dangerous breaks, in general the midfielder put in a strong, steady display at anchorman. In what was his second straight start for Barcelona, the Croat is starting to regain a foothold at the LaLiga leaders.
Frenkie de Jong:
De Jong never lets you down. His ability to cover ground and contribute both in defence and attack is almost boundless. He has such talent that the sky really does seem to be the limit. We're only a third of the way through the season, but it can already be said with no little confidence that we are watching Barça's signing of the decade.
Arthur Melo:
After an iffy start in which he lost silly balls, the Brazilian steadily began to find his feet and bring his best qualities - namely control and possession of the ball - to bear on the game. He was substituted in the 72nd minute, with Arturo Vidal coming on for him.
Lionel Messi:
Messi is a player capable of scoring the winning goal one minute, and tracking back the length of the pitch to stop an Atlético counter-attack the next. On Monday, the Argentine is poised to collect his sixth Ballon d'Or - and, let's be honest, a seventh shouldn't take long to follow, because he shows day in, day out that he's a talent a cut above the mere mortals who surround him. Whoever wants to dine at Messi's top table will have to eat plenty of spinach; right now, he's sitting at a table for one.
Luis Suárez:
Suárez had two clear openings, but shot too tamely and too centrally to cause Jan Oblak any bother. However, it was the Uruguayan who supplied the assist for Messi to win the game. He plays with such grit and heart.
Antoine Griezmann:
Whistled throughout, the Frenchman didn't have an easy night. He didn't hide at any point, but was far from on song. He could have finished off a fine attacking move involving Messi and Suárez, but sent the ball over the bar. He rolled up his sleeves in defence, helping to cover many of the spaces left by Júnior on the left wing.
Substitutes:
Arturo Vidal:
Vidal brought steel and determination to the midfield, but was unable to add freshness to the attack.
Samuel Umtiti:
Having had to replace the injured Piqué, it was clear that Umtiti had been unable to warm up before being introduced. The Frenchman offered an alarming lack of security after coming on, but, thankfully, only had to get through 10 minutes. He didn't really look with it.