Ballon d'Or: who's won more, Real Madrid or Barcelona?
The two footballing giants of LaLiga have collected plenty of silverware, including individual awards thanks to Cristiano Ronaldo and Lionel Messi.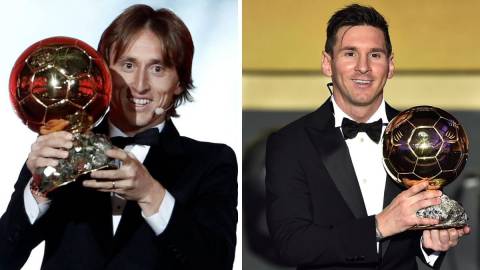 See how Messi won his sixth title with our coverage of the Ballon d'Or gala.
Barcelona have gone back ahead of their eternal rivals Real Madrid in the race to have the most winners of the Ballon d'Or award. Leo Messi's sixth Ballon d'Or, awarded on Monday night in Paris, means Barça have 12 awards to Real Madrid's 11.
Last year's winner of the trophy, Luka Modric, brought Los Blancos level and ended the ten-year duopoly of Cristiano Ronaldo and Lionel Messi. But the Croatian handed over the France Football trophy to Messi this evening, and unbalanced the LaLiga scales.
Messi, Cristiano and the rest
FC Barcelona's Lionel Messi impressed again in the calendar year and was rightly amongst the favourites for success at the ceremony in the Thêatre du Châtelet of Paris. Cristiano, now with Juventus, came third - some would say hype often impacts more than achievements - while Liverpool's Virgil van Dijk was also in with a shout for the title, he came second The Dutch defender would have become only the second Red to win the award but after his immense impact in a side that has broken various records en route to winning the Champions League, few would have complained if he'd topped the pile.
The eleven awards for Real Madrid have seen seven players involved. Cristiano has five (2008, 2013, 2014, 2016 and 2017), Di Stefano two (1957 and 1959), and then one each for Modric (2018), Cannavaro (2006), Ronaldo (2002), Figo (2000) and Kopa (1958).
Barcelona's latest talisman Messi now has six (2009, 2010, 2011, 2012, 2015 and 2019), with Cruyff on two (1973 and 1974), and Ronaldinho (2005), Rivaldo (1999), Stoichkov (1994) and Luis Suárez (1960) all with a single award.
Clubs with players to have won the Ballon d'Or
| | |
| --- | --- |
| Club | Ballon d'Or wins |
| Barcelona | 12 |
| Real Madrid | 11 |
| Juventus and Milan | 8 |
| Bayern Munich | 5 |
| Manchester United | 4 |
| Hamburg, Dinamo Kiev and Inter Milan | 2 |
| Olympique Marseille, Liverpool, Ajax, Benfica, Dinamo Moscow, Blackpool, Dukla Praga and Ferencváros | 1 |
In terms of other teams behind the two Spanish giants, Juventus and Milan both have eight players to have won the title, Bayern Munich have had five, and Manchester United four. Two players each from Hamburg, Dinamo Kiev and Inter Milan have also recieved the recognition while a star from Olympique Marseille, Blackpool, Dukla Praga, Dinamo Moscow, Benfica, Ferencváros, Ajax and Liverpool have also won the trophy.