"Cristiano wants to win the Ballon d'Or with Juventus" - Paratici
Juventus' sporting director said that Ronaldo deserved to win this year's Ballon d'Or, adding that there were no doubts the Portuguese star would stay at the Turin club.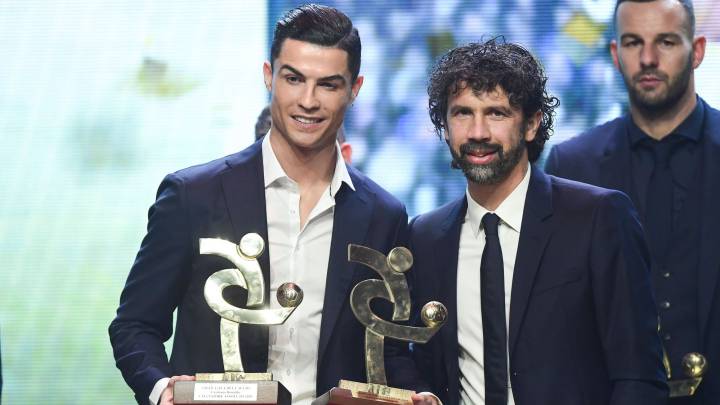 Juventus sporting director Fabio Paratici believes Cristiano Ronaldo deserved to win the 2019 Ballon d'Or.
On Monday Lionel Messi scooped his sixth Ballon d'Or trophy, putting him one ahead of his great rival Ronaldo.
Ronaldo came in third in the voting after Messi and Liverpool's Virgil van Dijk. But speaking to Sky Sports Italia, Paratici said that the France Football accolade should have gone to their Portuguese talisman, who was named Serie A's best player at a separate awards gala in Milan on Monday night.
"He wanted the Serie A MVP because he is an ambitious person and wants to prove that he is also the best here. In our opinion, he deserves the Ballon d'Or," he said.
"He wants to win another Ballon d'Or and wants to do it with us. We support him," stated the Bianconeri director, who added that there were no doubts that Ronaldo would stay at the Turin club amid reports of a strained relationship with coach Maurizio Sarri.
Chiellini: Ronaldo, not Modric deserved Ballon d'Or last year
Also speaking to Sky Sports Italia, the Old Lady's veteran centre back said that he felt the real injustice happened last year, when Ronaldo lost out to former Real Madrid team mate Luka Modric. The Croatian midfielder became the first player to end Messi and Ronaldo's ten-year duopoly of football's most prestigious individual award.
"What do I think of Messi's triumph? The real robbery was last year. Madrid decided that Cristiano didn't have to win it and it was strange," said the Italian defender.
"Modric had not had his best season, it should have been Cristiano's year or someone who had won something important with France. It was a clear sign from Madrid that they did not want Cristiano to win because he was no longer their player".
Chiellini added: "This year everyone had a great season. It's like choosing between Nadal and Federer. It's complicated, but in Juve we are fortunate to have one of them."