Omeruo tells Chelsea to let him go and prove himself in LaLiga
Kenneth Omeruo, the Nigerian serial loanee, is currently plying his trade for Leganés in LaLiga, and sat down with AS English to share his thoughts.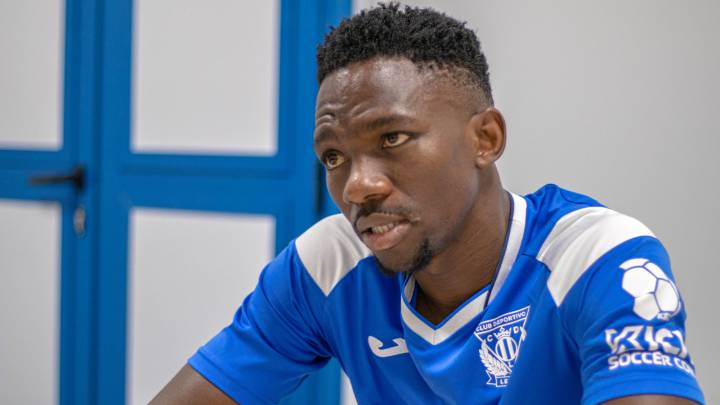 Kenneth Omeruo has called six different cities home in the last seven years. As a serial loanee from Chelsea, he has played in Netherlands, Turkey, England and Spain. Every summer it was on to the next club with a new manager, new system and new teammates. That was until last year when he moved permanently from the Premier League side to Leganés after a successful loan year in LaLiga. "It felt like it was enough," says Omeruo about his decision to leave Chelsea. "Every year you thought this was the opportunity to play for Chelsea but it wasn't coming. So last season, I said you know what, let me go to play in LaLiga and test myself and see if I'm good enough."
Chelsea release for Omeruo
As it turns out, he was good enough, which was hardly surprising for someone who has amassed 50 caps at the age of 26 for a country with as much footballing talent as Nigeria. "It went very well and I had a few options but the manager gave me a lot of confidence and told me that he wanted me to stay," he says. There was just one problem. Chelsea had no reason to sell a young and potentially very good player unless the price was right. The club based in the suburbs of Madrid, most famous for their nickname 'The cucumber-makers', their mascot, Super Pepino - 'Super cucumber' and Samuel Eto'o's early career stint there would have to go close to breaking their record transfer, €6 million they paid for Youssef El-Nesyri the year before, to sign Omeruo.
Leganés were in Segunda B as recently as 2014 but elbowed their way into the elite under Asier Garitano who brought them their first taste of top-flight football in 2016. They finished 17th, 17th and 13th in the three years that followed but knew they would have to spend to stay in LaLiga. They stumped up the €5 million needed to pry Omeruo from Stamford Bridge.
"As soon as the new manager came in, he had a word with me that really helped my confidence"
"The club also tried very hard because I didn't think they would be able to buy me from Chelsea but they made it happen," he said. The manager who backed him was Mauricio Pellegrino, who has since been sacked by the club but the Nigerian says the fee is not a burden, or at least, he can't consider it a burden: "I just go and play because I can not be thinking about the money. It's not in my account. It shows how important I am to the team and all I have to do is work hard to make sure it's worth it."
Luis Cembranos replaced Pellegrino and he only lasted two games as the caretaker before Javi Aguirre replaced him. "I would say it did affect me for a few days because I was used to him and I was used to playing and working for him," he says about Pellegrino. "But as soon as the new manager came in, he had a word with me that really helped my confidence."
Aguirre prepares for Barcelona test
In Aguirre's first home game, they led Barcelona until the 53rd minute when Luis Suarez equalised and Arturo Vidal scored the winner. They were unlucky not to at least draw the game. It will go down as a loss but there was a moral victory in there too. "Before the Barcelona game, we worked really well in pressure and playing and helping each other. It was always two against one on the sides and trying to cut off the angles of the passes and you could see that game, we did it very well," he says about the gameplay to stop Messi and co. "We did it well and it was unlucky that we didn't come out with any points but it was a good game," he says. You could see an the seeds of an idea forming in that game. They stifled Barcelona and regained a slice of their evaporating confidence, a consequence of winning just once in 14 games to start the season.
"We initially used mobile phones in the dining room, the massage room and now it's strictly football."
Aguirre, a manager who has taken managed from Egypt to Mexico and from Japan to Atletico Madrid, is not at Leganes to mess around either. "It's true," says Omeruo when asked if mobile phones have been banned. "And I think it's good for our focus. We initially used mobile phones in the dining room, the massage room and now it's strictly football."
Omeruo, who says he still has plenty to learn, can draw on experience from different leagues, but he says in LaLiga, the tactical excellence stands out on a weekly basis. "[In Turkey], they play with a lot of experience whereas here, it's more tactical. You have the best players, you're playing in every match against very intelligent strikers. I think playing in all these leagues, starting in Holland, it has really helped me and there is still room to grow and I'm still learning every game."
As for the best player he has ever faced? "Benzema," he says without a second thought. "It's not only because he is a good goalscorer, but he works hard and he is difficult to mark because of his positioning."

And he would know, he started life as a striker in the Hard Foundation in Nigeria. He changed, however, when he went on trials and realised everyone wanted to be a striker and there weren't enough defenders. Whether it's going on loan or switching position, Omeruo will find a way to play. "I was a striker. I think there was a tournament that I went on trials so I got there and there were so many strikers and very few defenders. So I decided to go in defence and I was chosen."
"For me, it was really positive," he says about his time at Chelsea. "The important thing is that I was able to play and impress enough to be called up for the national team. My idea has always been to play and not sit and wait for someone to get injured or something but I've always wanted to play and I'm happy that Chelsea gave me the opportunity to go out and play on loan."
"I don't know," says Omeruo about whether he will stay at Leganes if they get relegated. "Right now, we have a big chance to still be in the league and that's what the focus is right now, not to go down."
Whether it's in London, The Hague, Middlesbrough, Istanbul, or in the suburbs of Madrid, it's about playing football. That's what matters to Omeruo. And that's all that ever mattered to Omeruo.