Bale: Real Madrid forward breaks his injury record
Since arriving at Real Madrid, Gareth Bale has now suffered a total of 25 injuries - one more than in his six-year spell at Tottenham.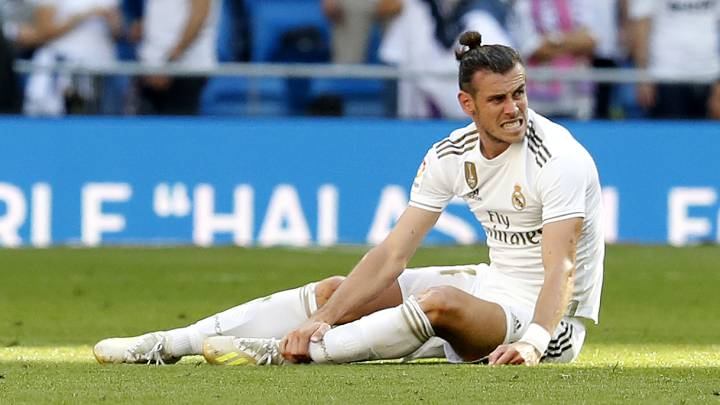 Gareth Bale has just broken a record, but it won't be one he's proud about.
25 injuries at Real Madrid one more than total at Spurs
The Real Madrid forward's latest injury, a hamstring problem that will keep him out of the games against Espanyol and Club Brugge, is his 25th since moving to the Bernabéu in 2013. That's one more than the total injuries he suffered in his six years at Tottenham, according to statistics compiled by the specialist website Injury League. Overall, his 49 injuries at Tottenham and Madrid work out at four a season.
In his time at Madrid, the 30-year-old has missed 90 competitive games. It has fallen to current boss Zinedine Zidane to deal with many of these regular absences. Under Zidane, Madrid and Wales became embroiled in a memorable war of words over the player's fitness in Ocotber 2017, while the Frenchman's struggles last month to explain Bale and James Rodríguez's absence ("They aren't injured, but they aren't available") remain fresh in the memory.
Left soleus a particular weak spot for Bale
Bale's left soleus has been his chief weak spot. Of his 25 injuries at Madrid, 10 have affected that area - a situation that has taken him to the point of obsession. He stopped driving Lamborghinis because he suspected that his posture behind the wheel of the luxury car made him more susceptible to injury. What's more, he now meticulously stretches his soleus muscles pre-match, at half time and even several times during a game.
But Bale didn't become an injury-prone player overnight after completing his move to Real Madrid. He also suffered all manner of issues at Spurs; indeed, in addition to his 24 injuries, he also had three spells out with illness, and played in just 203 of a possible 323 games at the Premier League club.
The 2007/08 season, his first at Tottenham, was particularly difficult for Bale, as a broken foot restricted him to just 12 appearances in all competitions. Such was his injury-hit start to life in North London that, five years before Spurs sold him for 101m euros, then-manager Harry Redknapp even offered him to Middlesbrough as part of a an ultimately unsuccessful bid to sign Stewart Downing...