Real Madrid's 'RBV', Zidane's alternative to the 'BBC'
The Madrid coach has tried nine different combinations up front, but never with Rodrygo, Vinicius and Benzema until the win over Espanyol.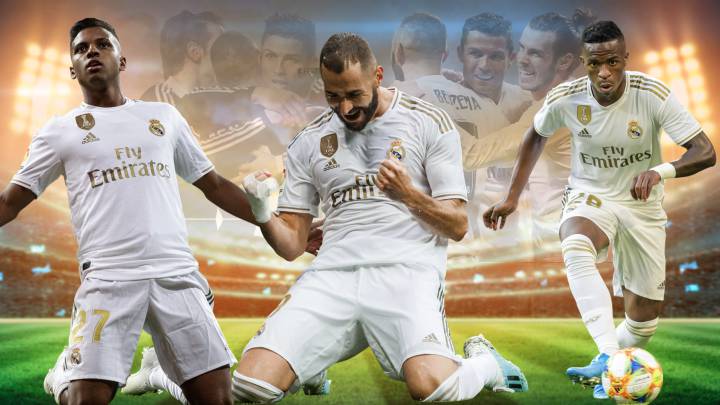 Rodrygo, Benzema and Vinicius. A new forward line for Real Madrid, which made its debut against Espanyol in the 2-0 win on Saturday afternoon at the Bernabéu. Two Brazilians and a Frenchman with one aim - forget the BBC. With Asensio, Lucas, Hazard, Bale and James all struggling with injury it's time for the youngsters from the other side of the Atlantic to seize their chance, alongside the experience of Benzema. But on Saturday it was only Benzema who managed to get his name on the scoresheet (Varane got the opener)...
Zidane turns to the RBV
With the departure of Cristiano Ronaldo, Real Madrid's famous BBC - Bale, Benzema and Cristiano - was consigned to the history books, and since then no forward line has replicated their success. Lopetegui, Solari and Zidane have all been unable to come up with as stable a grouping up front. Zidane, in particular, has tried almost everything, from Vinicius-Jovic-Lucas to Isco-Benzema-Hazard, but none of them have stuck - either because of injury, or the coach deciding to switch things about.
The long shadow of Real Madrid's 'BBC'
The last four Champions League successes of Real Madrid will always be remembered for the 'BBC'. Bale, Benzema and Cristiano slotted home over 400 goals and also lifted a Liga title, the Copa del Rey, four Club World Cups and four Super Cups.
Benzema and Bale are still part of the Real Madrid set up, but the Welshman's irregular form and struggles with injury mean he can't be counted on now to form part of a standard starting XI. What Zidane and Real Madrid need is to come up with a new solid, stable unit up front, with Karim Benzema as the cornerstone. The question is whether Rodrygo and Vinicius, now they've been given a chance, can go on to become the new go-to players for Madrid, forming a trident for the ages.
Vinicius started the season in the line-up against Celta, but has struggled to convince since then. Before this weekend's match against Espanyol he had not played a single minute in three games, playing just 26.2% of his possible minutes. Rodrygo has not participated much more - having racked up just 535 minutes. But both are desperate to make their mark with the Real Madrid first team.
Rodrygo has scored five goals this season, enough for Zidane to continue offering his opportunities. But he's not been a regular starter - having only been in the line-up five times, and a substitute on nine occasions.