Real Madrid: Casemiro must avoid getting booked against Valencia
The Brazilian midfielder picked up his fourth yellow cards in Week 12 against Betis - if he is booked at Mestalla he will miss El Clásico on 18 December.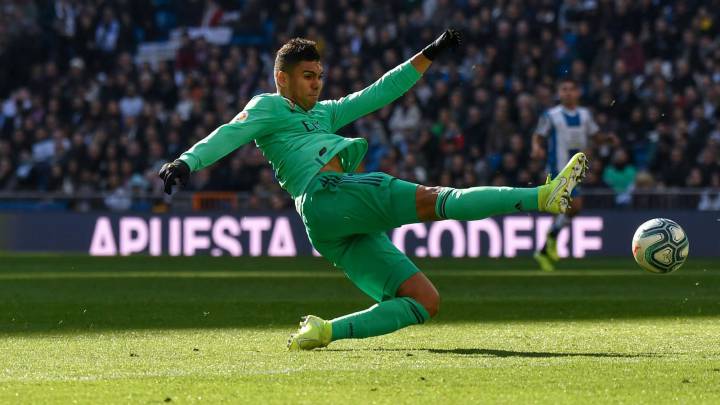 Casemiro has gone another weekend without getting booked and now has to get through Saturday's game against Valencia at Mestalla to ensure he is avoids suspension, to leave him free for El Clásico on 18 December. If the Real Madrid midfielder goes into the book against Valencia, he will complete a cycle of five bookings and be automatically suspended for the Barcelona game at Camp Nou. Casemiro has gone 421 minutes since his last yellow card in LaLiga - he was booked 39 minutes into the 0-0 draw with Betis in Week 12 (2 November). None of the four fouls he committed against Espanyol at the weekend were deemed worthy of a yellow card, in the view of match official, Jaime Latre.
Casemiro's presence in El Clásico has been a worry for Zidane for the past two months. He was at risk of missing the game when it was scheduled to be played on the original date, 26 October, after being shown a yellow card (his fourth of the campaign) in the game against Granada on 5 October. However a few days later he was back on three yellow cards after having the one he was shown in the Week 3 trip to Villarreal overturned on appeal.
Casemiro, a first choice for Zidane
It is not as though Zidane could rest Casemiro for the Valencia game - the Brazilian is, along with captain Sergio Ramos, one of the most used players this season. He has missed just half an hour in two games - he was taken off on 59 minutes in the Levante game (with the team 3-1 up at the Bernabéu) as he had only just come back from international duty with Brazil; and was replaced by Luka Modric on the hour when Galatasaray were at the Bernabéu last month - also when Madrid were cruising on the scoreboard. In total, Casemiro has racked up 1,740 minutes of playing time with Real Madrid this season - 96.7% of the total possible .
Ramos escapes booking against Espanyol
Ramos was another player who Madrid were concerned about missing El Clásico due to the accumulation of yellow cards. The central defender is currently on three and managed to avoid punishment in the Espanyol game which would have left him in the same position as Casemiro ahead of the Valencia trip.