1

2
Carles Perez 22',
Ansu Fati 85'
Second-string Barcelona knock Inter out of Champions League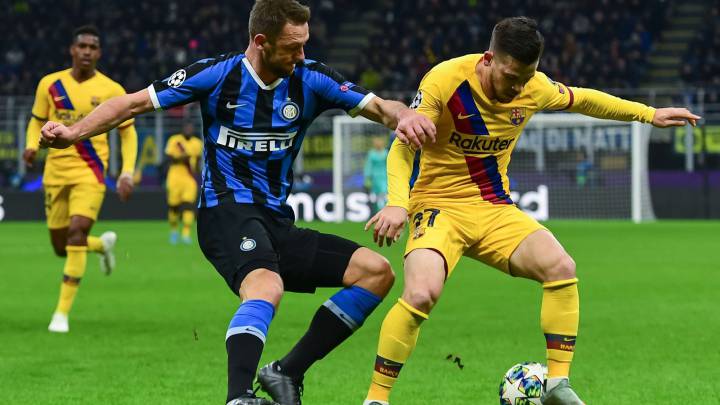 Inter Milan vs Barcelona: match report, as it happened
Inter Milan were unable to see their way passed a second-string Barcelona side at the San Siro, as youngsters Carlos Perez and Ansu Fati secured the win for the visitors to knock the Serie A club out of the Champions League.
Having gone behind to Perez's strike in the 23rd minute, Inter found a late first-half equaliser through Romelu Lukaku to keep their last-16 qualification hopes alive. Around the same time as the Belgian scored, Slavia Prague also managed to equalise at Dortmund, meaning as things stood, Inter would go through.
Inter were never going to rest on their laurels, however, and as news filtered through that Dortmund had regained the lead in Germany, the Serie A club went all out attack in search of a winner – scoring two disallowed goals in the process for unquestionable offside rulings involving forward duo Lautaro Martinez and Lukaku.
Having created several scoring opportunities, mostly through the two aforementioned strikers, Antonio Conte's men looked like they would be the next to find the net. But Barcelona's late substitute Fati dashed all hopes with his 87th-minute strike against the run of play.
Having been on the pitch for just two minutes, Fati initiated a one-two link-up with Luis Suarez before guiding the ball in off Handanovic's right post from 20 yards out to become the youngest-ever Champions League goalscorer.
His record breaking effort came at the expense of Inter, who find themselves out of the competition as Dortmund claimed the second spot behind Barcelona following their 2-1 win over Slavia.
Yellow card for ex-Atlético defender Diego Godín, as the old foe are seconds away from knocking him and his team mates out of the UCL.
Four minutes added on for Inter to score two goals!
Inter eyes light up as Politano takes down a cross and lines up a shot about 8 yards out. But Lenglet sticks out a leg to dispossess him before he has a chance to strike.
GOAL BARCELONA!!! Ansu Fati, who has literally been on the pitch for two minutes, has driven a low-shot from distance off the post and in -- killing Inter's hopes of survival.
Barca change: Ansu Fati makes way for Carlos Perez.
Inter have a third goal disallowed for offside as Lukaku bundles the ball into the net. Again there can be no argument.
Inter have got the kitchen sink out now and they're proceeding to throw at the Barca goal. This time Brozovic draws a gasp from the crowd as his shot sails over the bar.
Lautaro does score this time, doing brilliantly to take down a floated pass before hitting a half volley into the net. But it won't count, the linesman has flagged for offside and rightfully so. Although the Inter striker is wagging his finger at the decision.
And Inter almost had their equaliser through Lautaro, who did wonderfully to steal the ball off Lenglet in Barca's third before driving a shot past Neto but just wide of the far post.
Inter have 20 minutes to find a winner or, as it stands, they're out. Unless Slavia can find an equaliser against Dortmund.
De Jong with a beautiful Bergkamp-esque turn before teeing up Vidal for a shot. But the Chilean drags the ball wide of the far post.
Chance Inter! Lautaro rushes forward before poking a ball into the path of Lukaku in support. The Belgian tries to bring the ball round the keeper but he drags it too far ahead and it rolls out of play before he can gather it again.
Two changes for Barca: Suarez on for Griezmann; De Jong on for Rakitic.
Dortmund have gone back ahead against Slavia, meaning as it stands, Inter are out and the German club go through.
Chance Inter! Lukaku's shot from point-blank range is saved.
Chance Barca! Perez, who has been excellent tonight an already has a goal to his name, rushes forward at pace, drawing two defenders before passing wide to Griezmann in space on the left. The Frenchman's shot is on target but saved by Handanovic. That could be Griezmann's first shot of the game. He's been very quiet.
Brozovic is fouled and Inter have a free kick in a decent area. They go short to Biraghi on the left, but his cross only reaches a Barca head and is cleared away.
Chance Barca! Rakitic beats one, two, three defenders before blasting his shot into a fourth. Nice run by the Croatian.
Junior Firpo picks up the third yellow of the game.
Barcelona get the second half underway.
Lukaku's late first half goal was his 12th of the season -- just three less than he managed in 45 games for Man United last season.

Here are all the current HT scores...
After those two late first-half goals from Inter and Slavia, here is how things stand...
group F
Pts
MP
W
D
L

1

BCN

12
6
3
3
0

2

INT

8
6
2
2
2

3

BDO

8
6
2
2
2

4

SLP

3
6
0
3
3
And in other good news for Inter: Slavia have equalised against Dortmund. As it stands, the Serie A club go through. But they'll only be thinking about going for a second now.
GOAL INTER!!!! With his back to goal, Lautaro does incredibly well to hold off two Barca defenders before teeing up the oncoming Lukaku on the edge of the box. The Belgian's shot takes a slight deflection as it slides pass Neto and into the near corner. But he won't care. 1-1!
Biraghi has gone off for Inter to receive some attention.
The game has somewhat swung back in the favour of Inter again as they go in search of an equaliser. Though as it stands, with Dortmund 1-0 up in the other fixture, they will need two goals.
Beautiful stuff from Martinez! The Inter striker uses some stunning acrobatics to take down a high ball with his left boot before forcing a great save from Neto.
What a miss from Lenglet!! A cross comes in from the corner and falls to the French defender, completely unmarked and with just the keeper in his way. But he drags his shot wide of the right post when it would have been easier to score. Inter can breathe a deep sigh of relief.
Carlos Perez wins a free on the edge of the area on the left. He's looked bright and creating all sorts of problems for the Inter defence.
Dortmund are currently 1-0 up against Slavia in the other Group F fixture. So as it stands, Barcelona and Dortmund club will go through.
Barca have been controlling things nicely since the goal after Inter had dominated the opening 20 minutes.
GOAL BARCELONA!!! Completely against the run of play, I might add. Griezmann plays a fast ball to Vidal by the penalty spot, who lays it off to Carlos Perez. And the Spaniard expertly buries it into the far bottom corner. That's the youngster's second goal of the season after 9 appearances.
Aside for one decent opportunity for Barca through Perez, it's been all Inter in these opening 20 minutes. Bear in mind it's very second-string Barcelona side here.
Lukaku again involved as the Belgian tees up a shot for Biraghi. The Argentine striker fires a rocket at Neto, who does well to punt it away. Inter are going all out here.
It's been an open and entertaining 15 minutes, with Inter having already created several chances. Let's hope it stays like this.
Lukaku chests down a high pass and then tries to play a quick ball into the path of the on-rushing Martinez. But Neto is out fast to collect the danger.
Chance Inter! Lukaku gathers the ball by the six-yard area. He tries to cut back inside the Barca defender but he's dragged it too far and can't make a decent connection with the shot. Lenglet was on hand to block it regardless.
Chance Barca! A beautifully timed pass is played from deep and right into the path of Carlos Perez. Drifting away from goal, the Spaniard hits a first time shot with his left from an acute angle. It's a decent effort and a decent save from Handanovic.
Lukaku drives a shot from the left from 8 yards out and scores! But the linesman raises his flag as he's way offside.
Chance Inter! Lukaku plays a clever pass to release Skriniar in the centre. The Slovakian rushes forward and squares a pass to D'Ambrosio by the edge of the box. But he can only drive his shot over the bar.
Barcelona passing, moving and looking for a way through. But again Inter dispossess the visitors.
Barcelona playing it around the back, but they are eventually dispossessed by Inter as they try to work it forward.
Peep!! Inter get the game underway. Barca in their all-yellow strip.
Handanavic and Rakitic, the captains this evening, play out the coin toss.
Massive roar from the San Siro crowd after the UCL anthem. They're pumped up for this.
The teams are in the tunnel. Almost ready to go here.

In other results, Group E is now the first group to be tied up: Livepool take the top spot with Napoli second as both sides won their early fixtures against Salzburg and Genk, respectively. (Photo: AFP).
Inter will be fully focused on getting three points tonight. They are currently level on 7 points with Dortmund, who play Slavia Prague at home. But a win for the Serie A side will see them definitely go through on the back of the better head-to-head with Dortmund.
Here are those teams again:
Inter: Handanovic, Godín, De Vrij, Skriniar, D'Ambroiso, Vecino, Brozovic, Valero, Biraghi, Lautaro, Lukaku
Barcelona: Neto, Rakitic, Todibo, Lenglet, Wague, Griezmann, Aleña, Vidal, Umtiti, Junior, Perez
With Barca's top spot already secured, Ernesto Valverde has the luxury of resting a number of key players, while giving opportunities to several youngsters in need of game time. Ansu Fati doesn't start though but may see some action at some point.

Here's what the managers had to say before the game...
Antonio Conte (Inter Milan): "We are talking about Barcelona, one of the best teams in the world. There are three or four clubs that start to win all competitions and one of them is Barça. That means you have 22 top-level players. They come here without pressure to play here. That can be positive … The only thing I've told my players is that we can't leave anything on the field. That is the objective."
Ernesto Valverde (Barcelona): "Messi has been given a rest and nothing else. We have come from important games, we have important games coming up and I have decided that to leave some players at home. Last year we played a great game here, without Messi, by the way."
Some of the images coming through as we build up to the game...





Or news from tonight's other fixtures: Liverpool have just gone two-up against Salzburg. That should put Klopp's men through as the top seed.
Inter starting XI: Handanovic, Godín, De Vrij, Skriniar, D'Ambroiso, Vecino, Brozovic, Valero, Biraghi, Lautaro, Lukaku
Barca's teamsheet is in: Neto, Rakitic, Todibo, Lenglet, Wague, Griezmann, Aleña, Vidal, Umtiti, Junior, Perez

Barcelona's defence will not be the only ones with their eyes closely on Inter striker Lautaro Martínez. With 13 goals in 20 games this season, the Argentine is reportedly a prime target for Barca's sporting directors in their hunt for a long-term replacement for Luis Suarez.
Barcelona have only lost one of their previous six meetings at the San Siro against Inter, with four fixtures ending in draws. Inter have only managed to beat Barcelona once in their last 10 encounters.
The Inter U-19s had a decent win over Barcelona earlier. Their senior colleagues will hope for a similar result, which would put them through.
Hello and welcome to our coverage of the Champions League clash between Inter Milan and Barcelona at the San Siro. It's one hour to kick off, so in the meantime you can follow the pre-amble with us here. Team news to follow shortly!
.