Premier League Most Expensive XI: latest valuations
Transfermarkt.com has released its latest valuations for the Premier League, in which Raheem Sterling has surpassed Kane and Salah to become the EPL's most valuable player.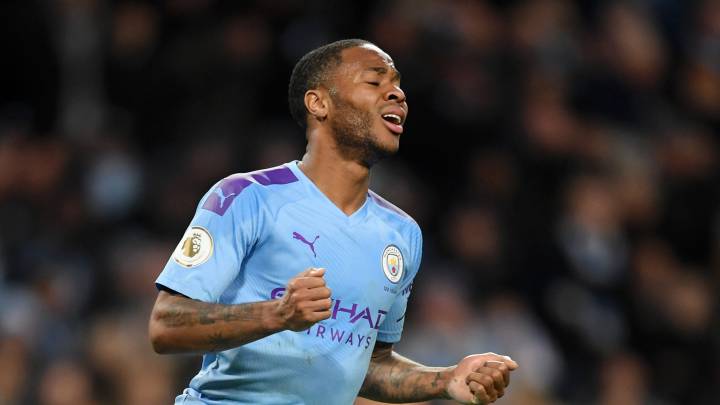 Goalkeeper: Alisson (
€

90m)

Having scooped Fifa's The Best Goalkeeper, Uefa's Champions League Goalkeeper of the Season and the Ballon d'Or Yasin Award, Liverpool keeper Alisson Becker's valuation has risen 10m to 90m euros. He is the world's second most expensive keeper behind Atlético Madrid's Jan Oblak.
Left back: Andy Robertson (
€

80m)

Liverpool full back Andy Roberston has seen his stock rise 20m to 80m euros to make him the third most expensive defender in the league. The Scotland international has created five assists this season, the second highest for a defender after team mate Trent Alexander Arnold, and has managed one goal.
Right back: Trent Alexander Arnold (
€

110m)

With his valuation increasing from 80m to 110m euros, Alexander Arnold is now the EPL's most expensive defender, surpassing Virgil van Dijk. The Liverpool an England full back has the highest number of assists for a defender (and third highest overall) with six. He is the youngest player in the XI at 21.
Centre back: Virgil van Dijk (
€

100m)

The EPL's second most expensive defender at 100m euros, Virgil Van Dijk has been instrumental to Liverpool's best-ever start to the season, netting three goals to make him the league's highest scoring defender. Liverpool paid 85m euros for him last January when his market value was at 30m. But seeming that it has more than trebled less than two years, it was a worthy investment for the Reds. The Dutch international came a close second to Lionel Messi in the Ballon d'Or voting.
Centre back: Aymeric Laporte (
€

75m)

Aymeric Laporte is the only non-Liverpool player to make the back four. Like Van Dijk, the Manchester City defender's value has not changed in the latest round of valuations and remains at 75m euros. This could be attributed to the fact that the Frenchman has not played since 31 August because of a knee injury. He is expected to return in six to eight weeks.
Central Midfielder: Kevin De Bruyne (
€

150m)

Kevin De Bruyne's value has jumped 20m euros to 150m euros in the latest valuations. The Man City midfielder has the EPL's highest number of assists with nine and has netted four goals this season.
Central Midfielder: N'Golo Kante (
€

100m)

N'Golo Kante has had a stop-start season so far because of injury but remains an indisputable starter for Chelsea coach Frank Lampard when fit. His value has not changed since the last valuation and remains at 100m euros. The 28-year-old has netted three goals for the Blues this season, but, strangely, has provided zero assists.
Right Wing: Sadio Mané (
€

150m)

Having come fourth in the Ballon d'Or voting behind Messi, Van Dijk and Cristiano Ronaldo, Sadio Mané has seen his value skyrocket from 30m to 150m euros. The Liverpool winger is the EPL's fifth highest goal scorer with nine goals (making him the joint top scorer of the Most Expensive XI)
Left wing: Mohamed Salah (
€

150m euro)

Mohamed Salah, who completes the trio of Liverpool players in the Ballon d'Or top five, has seen his value remain the same at 150m euros. Before the latest valuations, the Egyptian striker was the EPL's most valuable player alongside Harry Kane (those two now share joint second place with aforementioned risers De Bruyne and Mané). Salah has seven league goals and four assists this season.
Striker: Harry Kane (
€

150m euro)

Like Salah, Harry Kane has seen his valuation remain at 150m euros. The Tottenham forward has the same number of EPL goals as Mané, making him the Most Expensive XI's joint top scorer and fifth highest in the league. He and Kante are the only two of the six midfielders and forwards in the XI not to make the Ballon d'Or top 30.
Striker: Raheem Sterling (
€

160 million)

Having finished 12th in the Ballon d'Or rankings, Raheem Sterling has seen his valuation surpass Salah and Kane to reach 160m euros, making him the EPL's most valuable player. The England international was decisive to City's treble-winning campaign last season and this year he has netted 15 goals across all competitions (eight in the EPL). Sterling's value before the latest valuations was 140 million euros.
"I'm obsessed with football, obsessed with scoring goals, obsessed with recovering quicker and obsessed with improving myself," Sterling said recently. And if his latest Transfermarkt.com valuation is anything to go by, his commitment is paying off. He is now the world's third most expensive player after Kylian Mbappé and Neymar.