Ødegaard chose Real Madrid over Barcelona
This will be the Norwegian midfielder's first 'personal Clásico' - a chance for him to show how much he has developed during his loan speal at Real Sociedad.
All eyes at Reale Arena will be on Martin Ødegaard tomorrow afternoon as Barcelona pay their annual visit to Real Sociedad. In a way, it will be the Norwegian midfielder's first ' personal Clásico' - his first taste of what to expect when he return to Real Madrid after his loan spell in San Sebastián expires. It will also be an opportunity for Ødegaard to lend a hand to Madrid, who are level on points with Barça but trail on goal difference.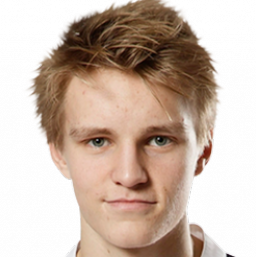 Ødegaard will also be in the spotlight because he chose Real Madrid over Barcelona, and this will be his first encounter with the blaugranas, who tried to sign him when he was still only a promising 16-year-old. He decided Madrid's offer was more appealing.
Ødegaard spoke about Barcelona's interest in bringing him to Camp Nou in an interview with Noticias de Gipuzkoa this week. Journalist Mikel Recalde asked him directly "Barça also called you, is that right?". The 20-year-old was equally as direct in his response: "It could have happened. A lot of club rang my father and I did pay a visit (to Barcelona), but in the end, it didn't turn out". Instead, he signed for Real Madrid.
Odegaard relishing first encounter with Messi
Settled and happy on loan at Real Sociedad, the midfielder says he is looking forward to playing against Barça - and Leo Messi for the first time. "I like his style, obviously. He is the best player - along with Cristiano and I can learn so much from him - watching how he does things, but he is at another level altogether to me and so there is no way I could compare my game to what he does", .
Now over the back problems that kept him out for a couple of game, Ødegaard enjoyed arguably, his best performance for La Real against Eibar a fortnight ago at Reale Arena - setting up one of the team's four goals and getting on the scoresheet himself with a tremendous strike into the top corner.
Odegaard plans to stay at Real Sociedad next season
The player is also learning how to deal with the media - and the constant questions about whether he plans to cut short his loan deal and return early to Madrid. "The plan is two years at Real, I'm absolutely sure about that", Ødegaard explained. But who knows, another impressive performance tomorrow against Barça could persuade Florentino Pérez to bring him back before time...