1
Gomis 72',
Mohammed Kanno 84'
Al Hilal 1-0 ES Tunis: Club World Cup 2019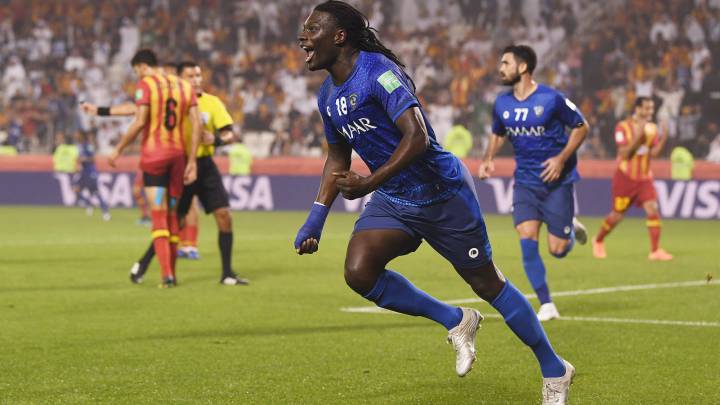 Al Hilal 1-0 ES Tunis: as it happened
Peep peep peep! It's all over! Al Hilal are through to the semi-finals, where they will face Flamengo!
Just as thoughts were starting to turn to the possibility of extra time and penalties, a superb piece of finishing by substitute Bafetimbi Gomis decided the second-round tie in Doha.
It was a watchable, closely-fought clash that either side could have won - but it is the Saudis, in their first ever Club World Cup appearance, who advance to a tie with the South American champions on Tuesday.
That's all from me - thanks for reading!
All the play is in the Al Hilal half. Chetti bends a good ball into the box, but the Saudis scramble it clear - and the offside flag was up anyway.
Three minutes of time added on.
There's a chance for Badri... and he blazes over! Ouattara nods it down nicely on the edge of the box, but his attacking colleague can't get over the ball.
Unless they can pull something out of the bag in stoppage time, ES Tunis are heading for a second straight quarter-final exit in the Club World Cup.
Perhaps unsurprisingly, Al Hilal respond with a defensive substitution, replacing Al Burayk with Abdullah Al Hafith.
I neglected to tell you that the Saudis had also brought on Abdullah Otayf for Khribin a few minutes ago.
ES Tunis also exhuast their changes, withdrawing Elhouni for Bensaha.
And Kanoo is now off! Having just been booked, he goes in late on Badri and promptly sees a second yellow.
A glimmer of hope for ES Tunis? Al Hilal will have to see this game out with 10 men.
ES Tunis are appealing for a handball when they feel Fadaa's ball hits an arm in the box... but replays show it certainly did not.
Al Hilal's Kanoo is booked for what seems to have been a little bit of excessive lip.
ES Tunis are appealing for a handball when they feel Fadaa's ball hits an arm in the box... but replays show it certainly did not.
Al Hilal's Kanoo is booked for what seems to have been a little bit of excessive lip.
A second substitution for ES Tunis. Midfielder Bonsu off, striker Taha Khenissi on in his place.
ES Tunis make their first change, replacing Begnuit with Raed Fadaa.
Moments after taking the lead, Al Hilal should put this tie to bed - but don't.
A low cross from the left is straight onto Khribin's boot in front of goal, but he sends his strike just wide!
Will Al Hilal live to regret that?
And finally we have a goal! Gomis with it!
The Frenchman was brought on to break the deadlock and duly obliges. Receiving the ball in the ES Tunis box, he expertly lifts the ball over Yacoubi's sliding challenge before blasting into the corner from close range!
20 minutes no separate us from extra time and penalties. Al Hilal are increasingly the team with the initiative.
Al Hilal win their ninth corner of the evening, but once more can do little with it.
Back come the Saudis, though, and Carlos Eduardo bends a shot just over the bar from the left-hand corner of the box. He pretty much had to shove Al Dawsari out of the road to get his strike in, and sends a wry smile his team-mate's way as he bemoans his off-target effort.
Badri clips a cross into the box, but Benguit can't get a good connection on his header and it loops up into the air and down into Al Maiouf's arms.
Moments before that, Gomis was brought on for Gustavo Cuéllar.
Badri clips a cross into the box, but Benguit can't get a good connection on his header and it loops up into the air and down into Al Maiouf's arms.
Moments before that, Gomis was brought on for Gustavo Cuéllar.
Carrillo slides a beautiful little ball into Eduardo's run into the box, and the Brazilian quickly clips it across goal towards Khribin - but Yacoubi is there to clear!
Bafetimbi Gomis is preparing to come on for Al Hilal.
Derbali is the second player into the book after tugging back Al Shahrani, and the ES Tunis defender can have few complaints about that.
Back in Doha, we are so, so close to an own goal!
Al Shahrani slides in to intercept Benguit's through ball for ES Tunis - but succeeds only in turning the ball over goalkeeper Al Maiouf and towards his own net.
Al Maiouf does brilliantly to scramble back and hook the ball away from the goalmouth, though, and Al Shahrani is the most relieved man at the Jassim bin Hamad Stadium.
The Al Hilal keeper looks to have hurt himself in the process of his heroics, but he seems like he'll be fine.
Real Sociedad vs Barcelona live on AS English
By the way, we've also got live coverage of Barcelona's LaLiga trip to San Sebastián to face Real Sociedad, where the hosts have taken an early lead through Mikel Oyarzabal. You can follow that with Robbie here.
Having created the first opening of the second half, Al Hilal duly carve out the second. Carrillo touches the ball inside to meet Kanoo's run into the box, but he blazes over from a tight angle. A waste.
Promising start to this second 45 from the Saudis, though.
Hyun-Soo feeds Al Dawsari at the top of the box, giving the Saudi international the chance to run at the ES Tunis backline. He duly obliges, touching the ball past his man and striking at goal... but striking over the bar.
No half-time changes for either side.
Peeeep! We're back underway in Doha.
Peeep peeep peeep!
It's been a pretty even contest and either side could well have come away from that first half with something to show for themselves, but it remains goalless at the break.
Two minutes of time added on.
Al Hilal take their eighth corner of the game... and, you guessed it, waste their eighth corner of the game.
Obviously Al Hilal almost score the second I say that.
Salem cuts back in from the byline and lays the ball off to the top of the box, where Carrillo is arriving at pace. His shot takes a slight touch off a defender, but Ben Cherifia does awfully well to get something on it, and ES Tunis survive.
The goalkeeper seems to have done himself some damage in the process of keeping out that chance, but after a spot of treatment looks like he'll be OK.
ES Tunis win another free-kick on the right after a foul by Carrillo. Badri swings the ball over, but Ouattara's header is off target.
Moments later, another dodgy clearance by Al Maiouf gives the Tunisians a chance to shoot... but Bonsu can't trouble the goalkeeper from 25 yards out.
It's been pretty much all ES Tunis for the last five to 10 minutes.
It's initially cleared, before ES Tunis recycle the ball to Badri on the right. Can he get some quality ball into the box? Well, not really. It finds the danger area, but is cleared behind for a corner... which comes to nought.
Just as I say that, of course, Cuéllar goes absolutely thundering in on Badri and deservedly becomes the first man to go into the book.
ES Tunis have a free-kick on the right, in prime swing-it-into-the-mixer territory.
Al Hilal win their 789th corner of this first half. Can they do something with it?
No.
After a fairly lively first half an hour, this match has hit a little bit of a lull in the last 10 minutes or so.
Khribin goes down like a sack of spuds after clashing with Yacoubi on the edge of the ES Tunis area, but is getting no change out of the match officials. He's not best pleased about it.
Al Maiouf has to look alive as Badri strikes from just outside the area and sees his shot take a not-unwicked deflection of team-mate Ouattara.
Decent amount of openings for both sides thus far.
Yes, it seems to have been a tight offside call against Al Hilal. No penalty, and goalless it remains after half an hour in Doha. It's been relatively even, with the Saudis arguably shading it on points.
Carrillo picks up the ball on the egde of the box and plays Carlos Eduardo in behind the ES Tunis and into the box... and when he's bundled over, referee Roberto Tobar initially seems to give a penalty!
However, what is finally given is a free-kick against Al Hilal. For what, I am not yet certain. Offside?
Chetti bursts into a crossing position on the left for ES Tunis - but delivers straight to a blue shirt.
Al Hilal then break, and carve out their best chance yet! Khribin's cute little ball slips Carlos Eduardo in behind the Tunisian defence, but Ben Cherifia is out well to block!
Bonsu holds off his man well and skims over a ball to Badri, who's arriving in shooting space on the edge of the box. At first glance, his snapshot seems to flash just wide, but on further inspection it was well off target.
Al Dawsari skips past Derbali and is brought down by the ES Tunis defender, giving Al Hilal a dangerous-looking free-kick in the left-hand channel.
It's swung to the back post, where Al Burayk can nod it back into the danger area - but Tunis scramble it behind.
Yet another corner for Al Hilal, but again it is dealt with by the Tunisians.
Ufff, that's a real let-off for Al Hilal! They've had most of the play so far, but could see easily have found themselves behind after their goalkeeper, Abdullah Al Maiouf, gets himself into a terrible tangle.
Receiving a back-pass from Jang Hyun-Soo, his touch is heavy - to say the least - and Ouattara is there to pick his pocket and lay the ball off to Anice Badri in acres of space in the box.
But he shoots wide! You lucky boy, Abdullah.
Al Hilal win a third corner kick, which finally falls to Cuéllar on the outside of the box. The Colombian shoots over, but it takes a touch of a Tunis boot and it'll be yet another corner for the Saudis. It comes to nought, much to the visible frustration of coach Razdan Lucescu.
Just as I say that, Ibrahim Ouattara has the first shooting opportunity for ES Tunis. Receiving the ball on the right-hand corner of the box, his first touch to get the ball out of his feet is good - but his shot isn't. He blazes over.
Carrillo swings over another cross for Al Hilal, but Yacoubi is there to put it behind. A corner - their second already. It's poor, though.
Al Burayk then has the chance to cross from the right-hand byline... but again the delivery is easily cleared.
Still, the lion's share of the attacking play has come from the Saudis, which will serve as an encouragement to them.
And there's the first opening for Al Hilal - but Carlos Eduardo can't get enough on it! Carrillo drifts over a nice far-post cross from the right, which Khribin nods back to the Brazilian. However, his header is weak. He appeals for a push, but Señor Tobar is unmoved.
Peeeeep! Chilean match referee Roberto Tobar gets us underway in Doha.
How and where to watch...?
If you're still wondering how you can watch today's clash at the Jassim bin Hamad Stadium, here's a useful guide that answers just that question.
ES Tunis out to make up for 2018 disappointment
Moïn Chaabani's men will be out to do a lot better than they did at last year's Club World Cup in the United Arab Emirates, where they were well beaten at this stage by tournament hosts - and eventual runners-up - Al Ain.
That day, the Tunisians were two down within a quarter of an hour and finally fell to a 3-0 defeat to the Emiratis, who went on to oust River Plate in the semi-finals before being beaten 4-1 in the final by Real Madrid.

ES Tunis again Africa's Club World Cup representatives
Meanwhile, ES Tunis are appearing at the Club World Cup for the second year in a row, and for the third time in all.
The Tunisians won the CAF Champions League in somewhat farcical circumstances in May, when they were awarded the trophy after the second leg of their final with Wydad Casablanca was abandoned.
With ES Tunis leading 1-0 on the night and 2-1 on aggregate, Wydad refused to play on after a faulty VAR system meant officials were unable to rule whether or not an equaliser for the Moroccans should stand.
Something of an unedifying way for the 29-time Tunisian champions to claim their fourth African title.
Giovinco, Gomis both on bench today
Giovinco starts on the bench tonight, as does Gomis, who top-scored for Al Hilal in their victorious AFC Champions League campaign, plundering 11 goals on his way to scooping the player of the tournament prize, too.
Former Villarreal loanee among Al Hilal ranks
Al Hilal's goalscorers in that final triumph over Urawa Reds are all - to a greater and lesser extent - familiar faces to European audiences.
Former Sporting CP, Benfica and Watford man André Carrillo grabbed the only goal in the first leg in Riyadh, before the Saudis sealed the trophy with a 2-0 win in Japan, courtesy of strikes by Salem Al Dawsari, who made one appearance on loan at LaLiga club Villarreal in 2018, and ex-France international Bafetimbi Gomis.
Another well-known face among Al Hilal's ranks is former Juventus foward star Sebastian Giovinco, who joined at the start of 2019 after three successful years at MLS franchise Toronto FC.

Club World Cup debut for Al Hilal
For 15-time Saudi league winners Al Hilal, this is a first ever appearance at the Club World Cup, having booked their ticket to the event by beating Japan's Urawa Reds in the final of the AFC Champions League in November.
Flamengo semi at stake...
The winners of today's clash at Doha's Jassim bin Hamad Stadium will earn the right to face Copa Libertadores holders Flamengo in the semi-finals on Tuesday.
After that, a place in next Saturday's final awaits, with Champions League victors Liverpool the likely opposition at the Khalifa International Stadium - if the Premier League leaders come through their semi against Monterrey or Al Sadd, that is.
ES Tunis team news:
Starting line-up: Ben Cherifia, Derbali, Yacoubi, Bedrane, Chetti, Bonsu, Coulibaly, Benguit, Badri, Ouattara, Elhouni
Al Hilal team news:
Starting line-up: Al Maiouf, Al Burayk, Jang Hyun-Soo, Albulayhi, Al Shahrani, Carlos Eduardo, Cuéllar, Carrillo, Kanoo, Al Dawsari, Khribin
Al Hilal vs ES Tunis team news in
Kick-off is just under an hour away, and the teams are in - so, without further ado...
Welcome one and all
Afternoon!
Welcome to our live coverage of the 2019 Club World Cup clash between Al Hilal and ES Tunis, in a second-round tie that pits the champions of Asia against the champions of Africa.
.