Benzema scoring goals that win leagues
Benzema is scoring goals that directly convert to points in the bag. His goals have come at decisive moments and given Real Madrid a total of eight points this season.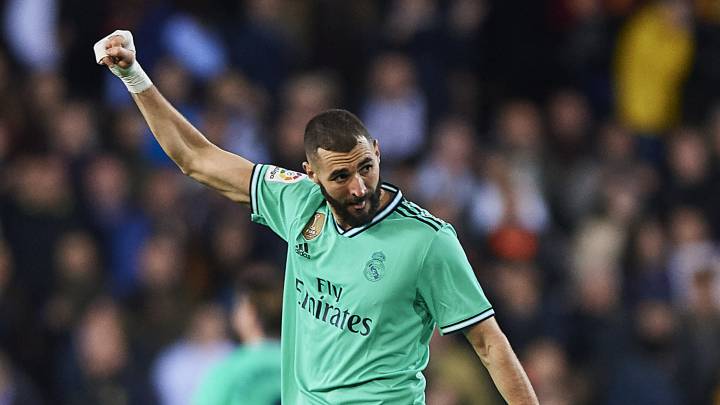 Jose Mourinho once called Karim Benzema a "cat" and on Sunday night against Valencia at Mestalla his predatory nature was more apparent than ever.
If you are going to hunt for a league title, Benzema will be your hound. He sniffed out the rebound from the Courtois header before dipping his teeth into Valencia's neck. His shot was intentionally high so as to avoid the swarm of Valencian players.
The 95th-minute goal unleashed the French striker's euphoria (he banged his chest even though his hand was wrapped up in bandages) and it seemed no coincidence that the player who ran the hardest to jump into his arms and celebrate the miracle goal was Sergio Ramos. The captain recognised in Benzema that epic never-say-die spirit that is usually associated with him and his head in finals.
Benzema level with Messi in race for Pichichi
While it was not a final at Mestalla, it is a place where leagues are won or lost. And Benzema is giving more than mere goals, but goals that directly convert to points in the bag.
His goals have been decisive and given Madrid a total of eight points: he scored the equaliser in the 1-1 draw against Valladolid, he was on target in the 1-0 win over Sevilla at the Pizjuán, he scored a brace in the 3-2 victory over Levante and yesterday his goal saved a vital point against Valencia.
The goal also keeps him in the running in the fight for the Pichichi (he has 12 goals, the same as Messi) and was also the latest of his career, coming on 94 minutes and 28 seconds. Madrid have not rescued points at such a late stage since Cristiano's goal at 95 minutes and 28 seconds against Elche six and a half years ago.
Benzema unchained
Interestingly, we did see a taster of this new unchained Benzema last year at the Mestalla. Madrid lost 2-1, but it was the French striker who scored Madrid's lone goal and it came deep into injury time in the 93rd minute.
Although Madrid had already the lost league and were moments away from losing the game, he grabbed the ball in anger and rallied his teammates to push for another goal. The images showed the opposite of the player known for being cold and unemotional during his previous years. But that he is no longer.
"That's the way we are, we always believe," said a clearly pumped Zidane in his flash interview after Sunday's game.
Karim Benzema until the end.