Zidane armour-plates Madrid with Casemiro and Mendy return
The return of Casemiro and Ferland Mendy will help to reinforce Madrid defensively against Barcelona at Camp Nou.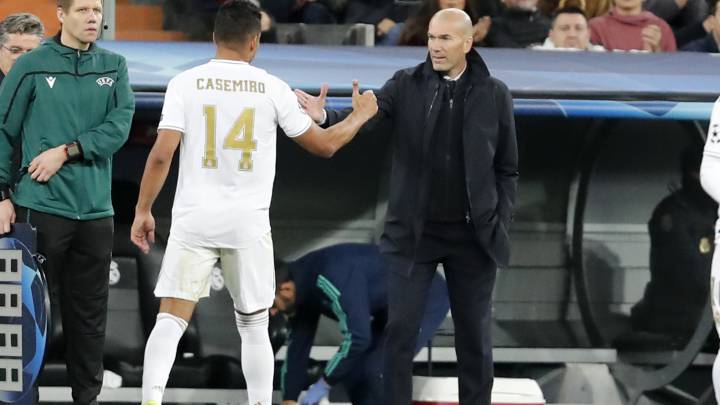 Zinedine Zidane is set to armour-plate his team at Camp Nou with the return of Casemiro to the starting XI, after the Brazilian was rested as a precaution against Valencia as he is currently on four yellow cards. Having started all 21 games this season, the Mestalla game was his first respite of the season.
"I was only thinking about the Valencia game," was Zidane's justification for leaving Casemiro out. Although it is obvious that was not the case. Casemiro has become irreplaceable for the French coach, who cannot contemplate a Clásico without him.
Next to him will be three more midfielders: Toni Kroos, Fede Valverde and Luka Modric. As such, Zizou repeats the midfield format that wielded such good results against PSG, although this time Modric starts ahead of Isco.
Mendy and Kroos
To further reinforce his starting XI defensively, Zidane will welcome back Ferland Mendy at left back, who missed the Valencia game due to a one match suspension.
The Frenchman has become a defensive specialist, which he showed particularly in three games: facing Chukweze against Villarreal, Navas against Sevilla and Portu against Real Sociedad.
His defensive security will be key along the left wide channel that in recent years has always attacked Barça to take advantage of Marcelo's offensive vocation.
Meanwhile, Kroos is currently enjoying one of his best moments as a Real Madrid player. Against Valencia in Mestalla he was excellent, achieving a 97.2% passing success rate, which is a record in LaLiga this season.
The German midfielder's numbers have significantly improved after a poor season in 2018/19. He is now an indisputable starter for Zidane, having played 1,523 minutes (76.9% of the total) and has regained his ability to reach the final meters.
He has already scored three goals, two more than last season, and is close to topping his current record of five goals in a season that he set in 2017-18, the year he lifted a third consecutive Champions League title with Zidane on the bench.