Messi: Clasico records king has Benzema to beat in Camp Nou
The Argentinean will have to be quick on Wednesday if he wants to add the Real Madrid striker's fastest goal record to his impressive haul of personal firsts.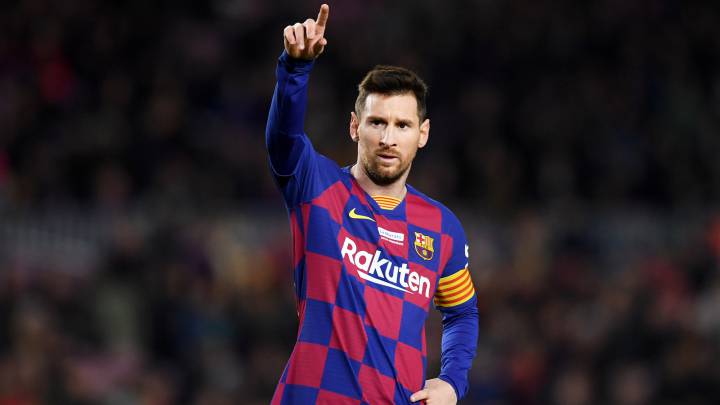 Barcelona forward Leo Messi doesn't have too many Clásico records to add to his collection and those that he does lack depend either on longevity or speed. The list of players who cannot shine a light to the Argentinean across the history of the Real Madrid – Barcelona rivalry is as long as it impressive and includes greats of the game including Alfredo di Stéfano, Cristiano Ronaldo, Raúl and as of Wednesday Xavi Hernández.
When Messi leads Barcelona out onto the Camp Nou turf on Wednesday he will equal Xavi's record number of appearances for the club with 42 Clásico games overall, also equalling Real Madrid legends Paco Gento and Manolo Sanchís. Only Sergio Ramos will remain to defy him, the Real Madrid captain chalking up his 43rd Clásico in Camp Nou on Wednesday. That will be a battle that will continue for some time, with Ramos always tantalizingly one ahead, injuries and suspensions aside.
In terms of goals and assists, nobody can touch Messi. The Argentinean has bagged 26 overall in his 41 games to date, adding 14 assists. The closest players to him are Di Stéfano and Ronaldo, both with 18 goals, and neither has any chance of catching him now (barring a remarkable return to the Bernabéu on the part of the Portuguese, who holds the record for most consecutive Clásico games finding the net on seven).
Messi is worth 0.63 goals per game for Barcelona in Clásico action and is one of only five players to have bagged two hat-tricks in the fixture, alongside Suárez, Jaime Lazcano, Santiago Bernabéu, Paulino Alcántara and Ferenc Puskas.
Benzema's 21-second strike may never be bettered
The only active players on the list of all time scorers are Messi's teammate Luis Suárez, with 11, and Real Madrid's in-form Karim Benzema, with nine. Neither are likely to challenge Messi's overall dominance but the Real Madrid forward holds one distinction that will take some beating: the Frenchman hit the fastest Clásico goal in history on 10 December 2011, hitting the net after just 21 seconds in a 3-1 defeat at the Bernabéu.
On the other hand, another Messi record is very up for grabs in Camp Nou on Wednesday, that of the youngest scorer in Clásico history. The Argentinean holds the current mark at 19 years, eight months and 14 days, but with Ansu Fati (17), Rodrygo (18) and Vinicius (19 and five months) all likely to play a part that may be one that old father time nicks from the Barcelona forward. Everything else remains in his hands, including Benzema's remarkable goal. But even the lightning feet of Messi will struggle to beat that.