Sergio Ramos: Real Madrid should have had two penalties
Real Madrid captain Sergio Ramos bemoaned the failure to award spot-kicks for two challenges on Raphael Varane in Wednesday's Clásico draw.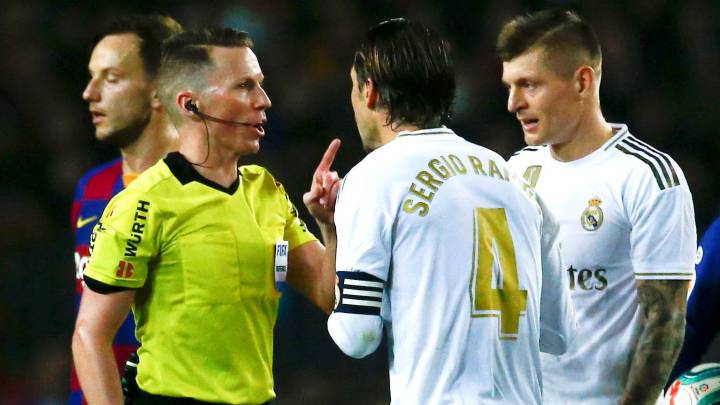 Sergio Ramos' post-match interview after Barcelona 0-0 Real Madrid:
Assessment of the match:
"When you don't win, you can never come away completely happy, [but] we played with a lot of personality at a very difficult ground to go to, one of the toughest there is, against a side who tend to have a lot of the ball, and we went out there to get it off them in their half. We made things really difficult for them. At the end of the day, it's the little slips that you get punished for and there weren't many of them today."
Did Real Madrid deserve more?
"I don't know if we deserved more, but we certainly controlled the play pretty well and had the odd chance more than them. It's not easy; at the end of the day, this is a really tough place to come to and denying Barcelona the ball is always difficult. We went out there aiming to press them and try to win it back right from the goal-kick, and I think it turned out pretty well."
Varane penalty shouts:
"We watched it at half time and it's pretty clear that they're both penalties. But nothing I say now is going to change the decisions. VAR is there to help [the officials on the pitch], when there are doubts they can take a second look [on the pitchside monitor]. That didn't happen, though, which is unfortunate for us. But I'm sure at some point we'll commit a foul in the box and also benefit from the incident not being looked at. These are just things that happen in football".
See also: Real Madrid robbed of "two penalties in two minutes" - AS resident ref
Real Madrid form:
"We're performing well at the moment and we feel in good physical nick, which is also positive. We're coming to the end of the year, we'd rather not stop and just keep on going. That's not the way it is, though, and hopefully we can keep playing like this after the holidays. We've still got a game to go against Athletic Bilbao and we'll be all out for those three points."
Real character:
"At the end of the day, we played with a lot of character, took good care of the ball, kept things under control and pressed them high. I think this is the type of performance we have to put in and, though we didn't come away with the win, we have every reason to feel satisfied."