Courtois bemoans referee decisions after Athletic draw
Real Madrid goalkeeper Thibaut Courtois gave a flash interview following the 0-0 draw with Athletic, in which he criticised the referee for not issuing more cards to the opposition.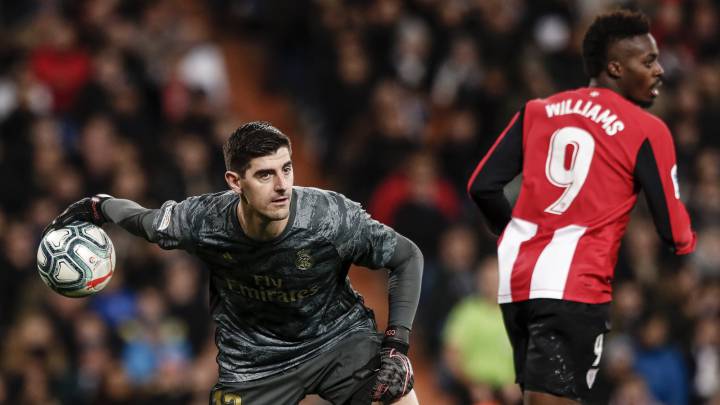 Analysis: "We leave with a bad taste in our mouths. We came from two very intense matches and it was difficult for us to get into the game at the beginning. We didn't have luck on our side, with three shots off the post, failed attempts, and a good performance by their goalkeeper too… It is a shame not to get the three points. The referee has not given any yellow cards to them, but hey. They are two points lost. We've got Getafe next after the break."
Referee's influence: "I do not think he has taken us out of the game, but if there is a team that tries to [illegally] break up attacks... at first you do you don't give them a yellow, okay, but after that ... We can no longer think about that. It's finished 0-0 and we'll go on."
Courtois: "We had enough chances"
Madrid's killer instinct lacking: "Yes, we lacked a little. Sometimes the ball does not want to go in – at Valencia, at Camp Nou, today ... we had enough chances to finish off the game. In the first half I made a good stop, in the second we had to be good at the back."
League position: "In the league we have generally made a good finish to 2019. We missed a game here at home today again... But we have only lost one game and we have to continue."