Real Madrid's ongoing Mbappé recruitment strategy
2019 has seen Real Madrid make a series of steps in their attempt to bring the French striker to the Santiago Bernabéu.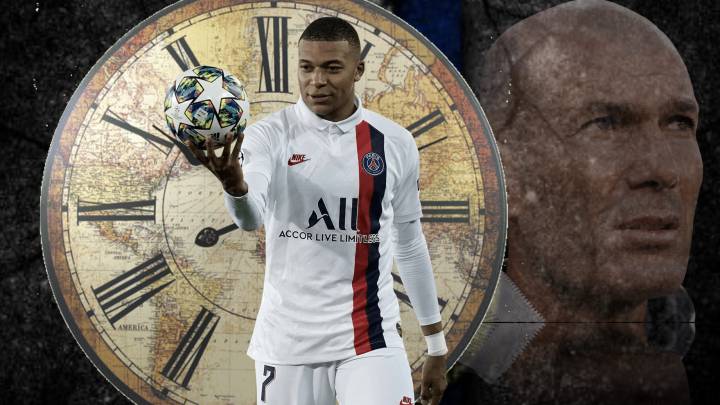 2019 comes to an end with Real Madrid still optimistic that they can secure the services of French striker Kylian Mbappé next summer. During the year the LaLiga club have been quietly working behind the scenes aware that maintaining their cordial relationship with PSG is fundamental to any future acquisition whilst making occasional public overtures to the striker to keep the flame of interest alive in the public eye.
The posture contrasts to that of 2018 when the side from the Spanish capital went as far as publishing a communique denying any interest in the French forward. Various key figures from the club have openly stated their admiration for the player. Sergio Ramos confessed to Fichajes.com that Mbappé is: "An excellent player with a great future ahead of him. He's a quick player and will be amongst the best". Defender Dani Carvajal also recently stated: "The best players need to be at Real Madrid and his signing would be a positive move". It wasn't just the players that drip-fed their words of praise for the PSG man with Real Madrid coach Zidane adding his weight to the groundwork stating: "I know Mbappé for some time now and I'm hugely fond of him as a person".
The strikers current deal with PSG expires in 2022 and recent efforts for him to renew have floundered with the Ligue 1 now side expected to improve their offer and present him with the same conditions as Neymar. PSG CEO Nasser Al-Khelaïfi finds himself in a complex situation, should Mbappé continue to refuse a contract extension, then the club would be obliged to negotiate with Real Madrid with Mbappé being a free agent as of July 1st (2022).
New recruit for the new Bernabéu
Following his history of big name "galáctico signings" (Figo in 2000 (€60 M), Zidane in 2001 (72), Ronaldo in 2002 (45), Beckham in 2003 (25) and Cristiano in 2009 (96), Florentino Perez would be anxious to secure another global superstar to coincide with the new improved Santiago Bernabéu stadium with work to improve the ground expected to finish in October 2022. Despite a current figure of 300 million euro attached to his signature, the acquisition of Mbappé to grace the new Bernabéu would be the icing on the cake for the president.