Real Madrid: Fede Valverde and Martin Odegaard's market value has doubled
Fede Valverde and Martin Ødegaard are now worth more than they were at the start of the season - going from 20 to 50 million euros in terms of market value.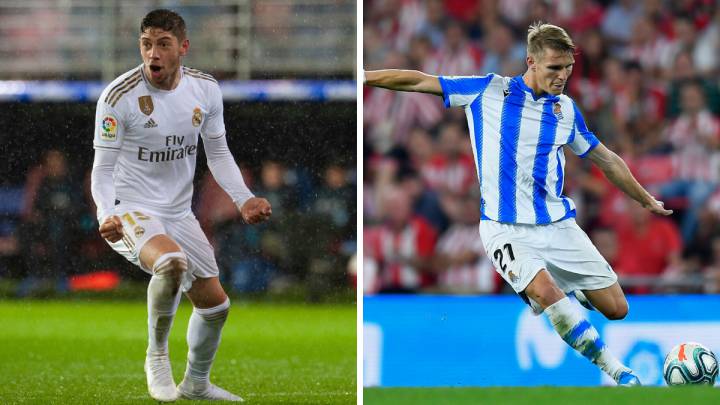 Real Madrid must be rubbing their hands together when they consider the talent they have waiting in the wings. Two of their players are strong candidates for LaLiga Santander's Revelation Player of 2019 - Martin Ødegaard and Federico Valverde. Both are just 21 years old but their market value has doubled since the season started, at least for Transfermarkt. The specialist portal had valued both players at around the 20 million euro mark but now feel that they are worth closer to 50 million in today's market.
Odegaard's slow start
The Norwegian midfielder has come on leaps and bounds during the first few months of his loan spell at Real Sociedad. Ødegaard touched down in Spain aged 16 in 2015 and already tagged as one of the most promising players in Europe. However, during his first year with Real Madrid Castilla, he failed to live up to expectations. His erratic displays with the reserves saw his value drop from 4 million euros he was quoted as being worth in December 2014, when he was still on the books at Strømsgodset, to half that figure - 2 million by August 2016 - just before he was farmed out on loan to Dutch outfit Heerenveen. The decline continued in the Eredevisie, by June 2017, his market value had plummeted to 1.5 million euros...
Things gradually change for the better
But after a slow start in Holland, everything started coming together for Odegaard. He carved out a regular place in the XI and began adding to his showreel with the odd glimpse of quality. He moved to Vitesse in the summer of 2018, and more of that early promise started to emerge. In Arnhem, his value gradually inched up, reaching 15 million euros by the time his loan stint ended.
It has been in San Sebastián with Real Sociedad where Ødegaard has really come into his own. At Reale Arena, and under Imanol Alguacil's guidance, his development has been nothing short of startling. He has played the full 90 minutes of every game when he has been available (he missed the games against Granada and Leganés because of a back injury). He was valued at 20 million euros at the start of September, and four months on, that figure has risen to 50 million. Odegaard has racked out four goals and five assists at Real Sociedad, where he is the team's most valuable player after Mikel Oyarzabal (€60M), and the 19th in the LaLiga Santander.
See also: Valverde yes, Pogba no
Fede Valverde's case has been quite different to Ødegaard's. The Uruguayan had steadily been making short steps in his development but in recent months, those steps have turned into giant leaps. Now he is regarded as one of the number 8s with the brightest future in Europe. Valverde was a more mature player when he joined Madrid aged 18 three years ago. Arsenal had been close to signing him two years previously when he was valued at just 500,000 euros. Madrid ended up paying 5 million euros - money well spent as the midfielder is now showing.
Unlike Ødegaard, Valverde El Pajarito settled into life with Castilla almost immediately, scoring on his debut and holding down a regular starting place under Santiago Solari. His performances with Madrid's second team earned him a call-up for Uruguay at the U20 World Cup in 2017, in which he helped the team finish in fourth place, and picking up the Silver Ball for his efforts. His market price rocketed, rising by 500% to 3 million euros in less than a year.
Following an impressive season with Castilla, Fede decided he wanted a taste of top flight football and accepted an offer to join Deportivo de la Coruña on loan. It wasn't a great season for Depor, who were relegated and Valverde missed seven games through injury but he did make 12 starts in 24 appearances - doubling his value to 6 million by the summer of 2018.
Back in Madrid, his moment finally arrived when Solari took over from Julen Lopetegui - under whom he had gone practically unnoticed. Solari gave him an opportunity - as did Zidane when he returned to the bench and by the end of last season, his price had risen again - to 20 million euros.
Valverde has been able to consolidate his place within Zidane's team this season partly because the club were unsuccessful in signing Paul Pogba. He has made 18 appearances, scoring two and setting up another two. Now, his is worth 50 million euros - behind Hazard (120), Varane (80), Casemiro (70), Kroos (60) and Courtois (55) and is the second most valuable Uruguayan player in LaLiga behind Atlético's Giménez (70M) and ahead of Luis Suárez, who is now worth 40 million.
Market value of players born in 1998
| | | |
| --- | --- | --- |
| Pos. | Player (club) | Value (in millions of €) |
| 1 | Kylian Mbappé (PSG) | 200 |
| 2 | Alexander-Arnold (Liverpool) | 110 |
| 3 | Christian Pulisic (Chelsea) | 60 |
| 4 | Fede Valverde (Real Madrid) | 50 |
| 4 | Odegaard (Real Sociedad) | 50 |
| 4 | Houssem Aouar (O.Lyon) | 50 |
| 4 | D. Upamecano (RB Leipzig) | 50 |
| 8 | Eder Militao (Real Madrid) | 45 |
| 8 | Achraf Hakimi (B. Dortmund) | 45 |
| 10 | Dani Olmo (Dinamo Zagreb) | 35 |
Source: Transfermarkt
The 1998 generation
In the Class of '98, Ødegaard and Valverde sit fourth in terms of market value, behind Mbappé (PSG, 200M), Alexander-Arnold (Liverpool, 110M) and Christian Pulisic (Chelsea, 60M) and level with Houssem Aouar (Lyon) and Dayot Upamecano (RB Leipzig).