Barcelona's Ter Stegen tracked by Juventus, PSG and Bayern
Three fellow elite clubs are eyeing a move for Barcelona goalkeeper Marc-André ter Stegen, according to the newspaper Mundo Deportivo.
Now in his sixth season at Barcelona, Marc-André ter Stegen has established himself as one of the world's top goalkeepers - and his fine performances for the Blaugrana certainly haven't gone unnoticed among other elite clubs in Europe.
Ter Stegen on Juve, PSG and Bayern's transfer wish list
According to the Catalonia-based sports newspaper Mundo Deportivo, Ter Stegen - who has two years left on his current Barça deal - is attracting interest from Juventus, Paris Saint-Germain and Bayern Munich.
Each has good reason to be eyeing the 27-year-old: Juve are still seaching for a world-class successor to Gianluigi Buffon; PSG are mindful that summer signing Keylor Navas is now 33; and Bayern are starting the process of replacing Manuel Neuer, who is out of contract at the end of next term, at which point he will be 35.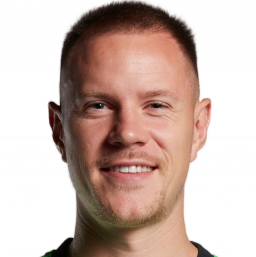 Bayern CEO-to-be Kahn a big Ter Stegen fan
MD says it is Bayern who are the most likely to launch a bid for Ter Stegen, particularly as Oliver Kahn - who is to become a club director in January before replacing Karl-Heinz Rummenigge as CEO in 2022 - is a firm admirer.
Amid the recent debate in Germany over which of Neuer and Ter Stegen should be the national team's number-one goalkeeper, Kahn was among those who publicly backed the former Borussia Mönchengladbach custodian.