Barcelona: Pass/fail player verdicts - Dembélé, Griezmann...
More than 10,000 readers of AS.com have taken part in a poll giving them the chance to hand Barcelona's players a 'pass' or 'fail' mark.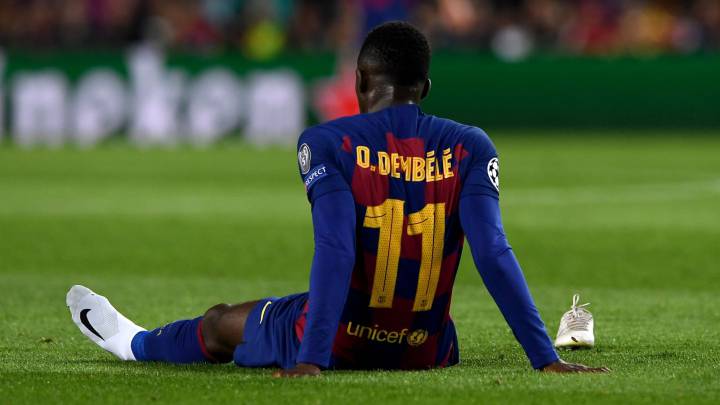 Seven members of the Barcelona squad haven't been good enough so far this season, according to the results of an AS.com poll in which readers were offered the chance to give a 'pass' or 'fail' verdict on the players' performances in 2019/20.
Dembélé once again fails to win over Barcelona fans
More than 10,000 AS.com users have taken part in the survey, whose chief initial conclusion is that, for the third year in a row, Ousmane Dembélé has failed to win over the Barça fans: 87% of voters opted to hand the Frenchman a 'fail'.
In addition to Dembélé, the supporters have also given the thumbs-down to Junior Firpo, Moussa Wagué, Samuel Umtiti, Jean-Clair Todibo, Carles Aleñá and Arthur Melo - a player whose Camp Nou career is currently in free fall.
Also of note is that Antoine Griezmann has just made it into the 'pass' group, with Nélson Semedo the only individual to get a lower positive percentage than the summer signing, who is ranked as Barça's 13th-best player of the season.
De Jong the best signing, Ter Stegen takes top spot
Frenkie de Jong has been deemed the Catalans' most successful new recruit this term, coming third in the standings behind only Lionel Messi and Marc-André ter Stegen, with the goalkeeper actually beating the Argentine into second place.
The top three are followed by Gerard Piqué, Clément Lenglet, Ivan Rakitic, Luis Suárez and Arturo Vidal. The high marks given to Rakitic and Vidal are particularly noteworthy, given the difficulties they have both had in getting game time.
Barcelona squad - pass/fail rankings:
1. Marc-Andre ter Stegen - PASS (93% approval rating)
2. Lionel Messi - PASS (90%)
3. Frenkie de Jong - PASS (84%)
4. Gerard Piqué - PASS (80%)
5. Clément Lenglet - PASS (78%)
6. Ivan Rakitic - PASS (76%)
7. Luis Suárez - PASS (73%)
8. Arturo Vidal - PASS (70%)
9. Neto - PASS (65%)
10. Sergi Roberto - PASS (61%)
11. Sergio Busquets - PASS (60%)
12. Jordi Alba - PASS (60%)
13. Antoine Griezmann - PASS (58%)
14. Nélson Semedo - PASS (56%)
15. Arthur Melo - FAIL (46%)
16. Carles Aleñá - FAIL (43%)
17. Jean-Clair Todibo - FAIL (33%)
18. Moussa Wagué - FAIL (32%)
19. Samuel Umtiti - FAIL (32%)
20. Junior Firpo - FAIL (23%)
21. Ousmane Dembélé - FAIL (22%)