Real Madrid must address new contracts for Sergio Ramos and Luka Modric
Both players will be out of contract in 2021. Madrid plan to offer the captain an extension, but the situation is not so straightforward for Modric...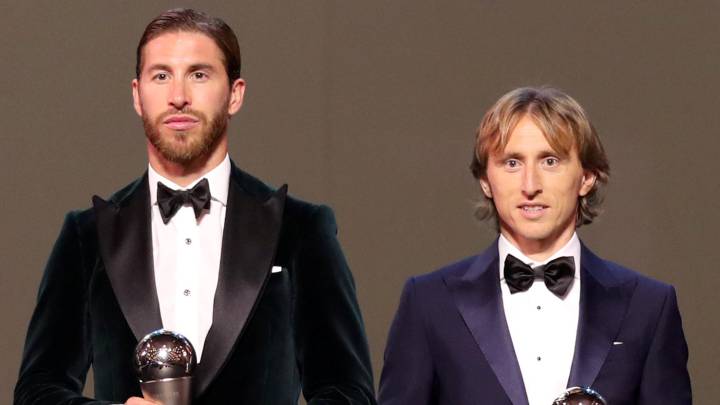 Real Madrid have the next few months to resolve the contractual situations of two of the team's veteran players: Sergio Ramos and Luka Modric. Both players will be out of contract in June 2021, which means they have a year and a half left at the club. If they don't strike new deals in the New Year, they will be free to negotiate with other clubs from January 2021.
Both cases are very different. Ramos intends to continue at Real Madrid beyond his current arrangement while there are doubts about Modric, who is a year older (34) and clearly in the twilight part of his career. While he is still performing at a decent level, up and coming players like Fede Valverde have started making a strong claim for a place in the side.
Last summer, Ramos said he had received an offer to play in China then called a press conference to clarify his position. "I have no intention of leaving the club and my wish is to retire here", he explained. So the club and player must find a middle ground and a new arrangement that will suit both parties. If handed a new deal, it will be Ramos' fourth contract renewal since he joined Real Madrid on a five-year deal in 2005 and his first contract revision was in 2011.
Ramos' 2015 summer soap opera
The centre-back was at the centre of a drama during the summer of 2015 when Manchester United were reported to be interested in signing him while he was negotiating new terms with Madrid. In the end he agreed a new deal, extending his contract to 2020. That contract was prolonged again by one season in 2017, although there was no official announcement by the club or the player. Ramos was handed a pay rise and his contract extended to June 2021.
As for Modric, it's a different story. He is no longer a first choice in the big games following the emergence of Fede Valverde and he will be two months away from turning 36 when his contract expires in 2021. The midfielder had doubts of his own about continuing at Madrid after the 2018 World Cup. He decided to stay and ended adding an extra year on his contract in the year he won the Ballon d'Or. Any contract extension will depend on how he performs between now and the end of the season and how Zidane views his role within the side...