Real Madrid: "The problem with Jovic is Jovic"
Ljubisa Tumbakovic, manager of the Serbian national team, has spoken out about what he feels are the issues with Los Blancos' €60-million striker.
Luka Jovic is not having a quiet start to the new year. To add to his, thus far, disappointing season with Real Madrid, where he arrived last summer for 60 million euros, criticism has been fired in his direction back in his homeland. Not only about his on-field lack of activity.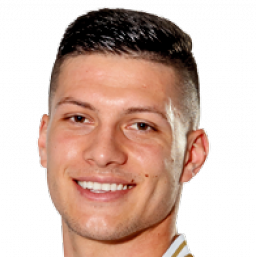 Jovic problems start with himself
The striker only has one goal to his name after playing in 423 minutes for Los Blancos. With results having picked up for the club, he is being given time to find his feet in the Spanish capital, but back in Serbia, his national team manager, Ljubisa Tumbakovic, has been getting stuck in. The distance between the two men has grown considerably following some issues related to the player's attitude to his country's games.
In September Jovic brought off the bench with just three minutes remaining in the game against Portugal. Then, in the following game against Luxembourg, the forward claimed to be carrying an injury and was released to head back to Madrid, where he played four days later against Levante (if only the final seven minutes). Tumbakovic did not like this and left him out of subsequent squads.
On Thursday, the coach gave his version of the situation speaking to Blic Sport and didn't hide his anger towards the player. He made it very clear that Jovic's problem is Jovic himself.
"I take care of every player to get the most out of the Serbian national team," began Tumbakovic, "and I have never given up any of them.
"One of those who has moved away from the national team is Luka Jovic. And there is only one truth. There is no conflict between Jovic and I. Luka Jovic's problem is Luka Jovic.
"Suddenly that player abandoned the training sessions, he did not answer calls. As a coach, I will always want to count on a player of that class as it wouldn't be professional for me not to consider him.
"But it is he who has to convince us, the media, the fans, the people of the federation and me as his coach, that he is prepared and responsible. He has taken no steps in that direction."
International door still open for Jovic
After these strong words, Tumbakovic insisted that the Real Madrid striker has not been excluded completely from the national team.
"The doors are open for every player, including Luka Jovic," he said. "I have been doing this job very professionally for almost three decades, and I've never consciously put any player's career in danger, nor will I ever.
"I have led many players along the right path, so why couldn't I do the same with him?"