REAL MADRID
Real Madrid: Everything is more difficult without Fede Valverde
Zidane has turned Valverde into one of Madrid's most important players and one stat underlines that importance. It was evident again against Getafe on Saturday.
The importance of Fede Valverde is such that you notice him as much when he plays as when he doesn't. Left out of the team against Getafe, Real Madrid suffered through spells of uncertainty on Saturday and saw a downturn in their attacking fortunes. They were saved a number of times by Courtois and a couple of Varane headers. 
The Uruguayan came on after 70 minutes and he got to grips with a quick game as soon as he stepped on the field. He had eight passes and seven of them were successful. Most importantly, however, was his assist to put the game to bed as Luka Modric scored to make it 3-0. 
Zidane has turned Valverde into a sure starter after a slow start to the season. He wasn't even on the plane to Vigo in the first game but now it's hard to comprehend a version of Real Madrid without him. He has the 8th most minutes in the squad with 1,139. 
"They're all involved," said Zidane after the game. "I have 25 players and 11 can play. In the end, it's about all of them."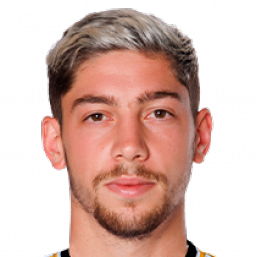 The statistic that underlines Valverde's importance is a simple one. With him, Real Madrid have scored 31 goals and conceded 4. But without him, they have scored 19 and conceded 16. Life is more difficult without him and that is becoming increasingly evident.