Real Madrid: Zidane's Super Cup final pre-match press conference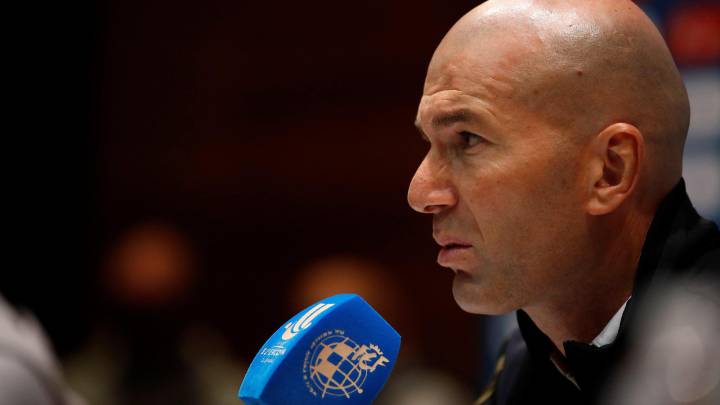 Zidane press conference: as it happened
Adiós!
That's all from me - be sure to join us for live coverage of Real Madrid and Atlético Madrid's Spanish Super Cup final, tomorrow night at 19:00 CET.
Thanks for reading!
There were a couple of questions which, due to my sluggish typing and inability to multi-task, I neglected to bring you. Here they are, courtesy of my colleague Carlos Forjanes:
Has the new Super Cup format made it a more important trophy?
"I don't know, I don't have a strong opinion. The Federation has organised it this way and we've come. We're looking to make the most of the chance that this competition gives us. We try to win every tournament we enter."
Are you a better coach now than when you won three straight Champions Leagues?
"Yes, I think I'm better. I feel like I have developed. In life too, as a person. You learn from situations, from the people around you. I make sure to listen to the people who are alongside me, and my aim to is to keep on progressing."
Zizou departs
And that is your lot from Monsieur Zidane, who, truth be told, spent that 20 minutes or so dipping into his little black book of unadventurous football speak.
Some highlights:
- Message to players: "We're out to put in a good performance"
- Good record in finals against Atleti: "Every game is a different story"
- Formula for success: "There are no secret formulas"
- Signings: "We're only thinking about tomorrow's game"
- Valverde under pressure at Barcelona: "That happens to all of us as coaches"
- Atlético's comeback win over Barcelona: "That's football"
What do you think when you're branded as a 'selector' rather than a coach?
"That's not the case. We always prepare well for games and take a real good look at our opponents. The most important thing is how we play, but it's also important to look at your opponents."
Does the way Atleti qualified for the final make them all the more dangerous?
"No, they're a side who have always shown how strong they are. They defend well, but they also attack very well, too. Both Atlético and Barcelona are very strong teams, so we were always going to have to be on our mettle."
Will tomorrow's result influence future signings?
"Tomorrow is a trophy and we're only thinking about tomorrow's game. That's all I'm concerned about. As for the rest..."
Atlético's victory over Barcelona:
"That's football. There was a moment when it looked for sure like Barcelona were going to win the game, but Atlético turned it around and that's football."
Valverde under pressure at Barcelona:
"That happens to all of us as coaches. I don't want to talk about that - what he's going through is something we all go through as coaches."
Winning formula:
"There are no secret formulas. I believe firmly in this squad, we've got the best players around. They just have to show that - that's the key."
With largely the same squad, you're close to winning a trophy despite saying you didn't see these players winning silverware when you resigned in June 2018:
"There are always difficult moments for teams, particularly after winning a lot, and that's what happened to these players; but to get back to [a position to win trophies] it's all about hard work and patience. We want to give our fans something new to shout about and we're working hard to do that."
Good record in finals against Atlético:
"Every game is a different story. We've won games against Atlético and lost games against Atlético. Tomorrow will be a different final."
How will you set your team up tomorrow?
"I'm not going to tell you how I'm going to set my team up, but in any case the main thing isn't the formation; that can be interpreted in different ways. What's most important is the way we go about our business."
Zidane is asked about Joao Félix, who has been having a tricky time of it at Atlético Madrid of late.
"I've got no doubts that he's a player for the future and the present too. He's a really good player and Atlético Madrid have signed him because he's got a big future ahead of him, certainly."
What's the chief message you'll be giving your players?
"The message hasn't changed. We've come here to win it and are pleased to be playing the final, and we're out to put in a good performance."
Zidane press conference gets underway
...and out comes Zidane!

ZZ: top record in finals
Tomorrow's Super Cup trophy decider will be Zidane's ninth final as Real Madrid coach - and he's not done too shabbily in his past eight, to be fair, given that he's won them all. Including two against Atlético, of course...

Xavi tipped to take over from Valverde at Barça
Barcelona's late collapse has left further question marks over the future of the Blaugrana's under-fire head coach, Ernesto Valverde, and indeed it emerged last night that club directors have travelled to Qatar to sound out Xavi Hernández's willingness to take over at some point in the not-too-distant future...
"Barcelona look for their Zidane", is the headline on today's AS front page in the wake of that news.
Atlético set up Madrid derby in Barcelona thriller
Real Madrid will face Atlético after Los Colchoneros came through a semi-final that was a wholly closer affair. Having not beaten Barcelona in their previous nine attempts, Diego Simeone's men came through a thrilling advert for Spanish football on Thursday night, scoring twice late on to down the Catalans 3-2.
Simeone was pretty pleased about it.
Madrid squad to train later this afternoon
After Zidane speaks to the media, Real Madrid are due to train for the final time before tomorrow's clash, with Los Merengues scheduled to go through their paces at the Ittihad F.C. Training Centre a little later on, at 16:30 CET.

Zidane praised for tactics against Valencia
In the wake of Wednesday's win, Zidane has earned plaudits for his rejigging of the side into a midfielder-heavy 4-5-1 - a plan that saw Real Madrid dominate possession and neutralise Valencia's playmaker Dani Parejo, who spent much of his time trying to get the ball back off Kroos, Isco, Modric and Co.
Madrid's boss is steadily shaking off the 'selector' tag, it seems...

Madrid in final after easy Valencia win
Zidane's Real Madrid team eased into the final on Wednesday, in a one-sided last-four win over Valencia that included a tasty Toni Kroos strike straight from a corner (aided by a somewhat distracted Jaume Doménech in Los Che's goal, admittedly).
Morning!
We'll be hearing from Real Madrid head coach Zinedine Zidane in about 30 minutes' time - 10:30 CET, to be exact - as Los Blancos prepare to face city rivals Atlético Madrid in tomorrow's Spanish Super Cup final.
.