Luis Suárez to undergo surgery on Sunday and faces 6 weeks out
The Barcelona striker, will be in the hands of leading consultant Doctor Ramón Cugat. He could return for the Champions League meeting with Napoli.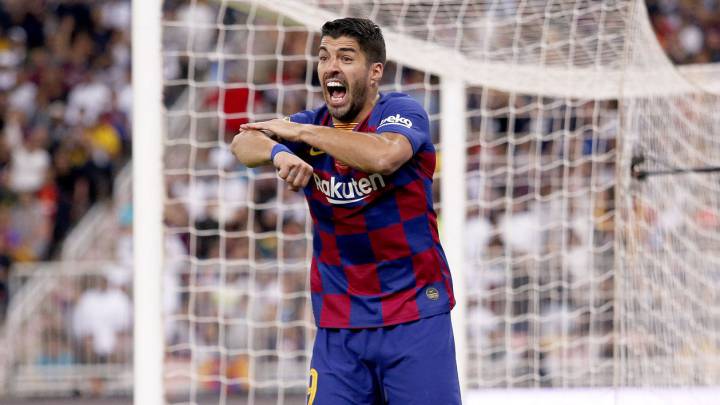 Luis Suárez has decided to resolve his knee problems once and for all with a trip to the operating table. The striker will undergo surgery on his right knee tomorrow, having torn meniscus trimmed to put an end to a situation where he was having painkilling injections before every match and icepacks strapped to his knee post-match.
Luis Suárez to miss five league games
Barcelona's medical services issued a report this afternoon which only confirmed that the player will have the operation on Sunday and that Doctor Ramon Cugat will perform the intervention, supervised by members of Barça's medical team. There was no estimate as to how long he will remain out of action. The normal recovery time for such operations is between five to six weeks. That means he should be available for the Champions League tie against Napoli on 25 February. He will however miss five LaLiga games - Barça's meetings with Granada, Valencia, Levante, Betis and Getafe as well as the team's Copa del Rey ties which will be confirmed in Tuesday's draw. If all goes to plan, he could return for Eibar's visit to Camp Nou on 22 February.
Doctor Cugat has operated on Luis Suárez before - at the end of last season he performed an arthroscopy on the Uruguayan's problematic left knee - a controversial decision as it meant Suárez missed the Copa del Rey final against Valencia, but allowed him to star for his country at 2019 Copa América.
Chance for Ansu Fati and Carles Pérez
So problems continue to mount for Ernesto Valverde who is already without Ousmane Dembélé - the French forward will be out for another month which leaves just two players to lead Barça's attack - Leo Messi and Antoine Griezmann. Valverde will likely call on B team players Ansu Fati and Carles Pérez to help out until Suárez returns.