SPANISH SUPER CUP FINAL | REAL MADRID - ATLÉTICO
Real Madrid with more Super Cups - but Atlético have the edge in finals...
The Rojiblancos have beaten their neighbours five times whenever they have met in a final. But Madrid have won more Super Cups than Atleti.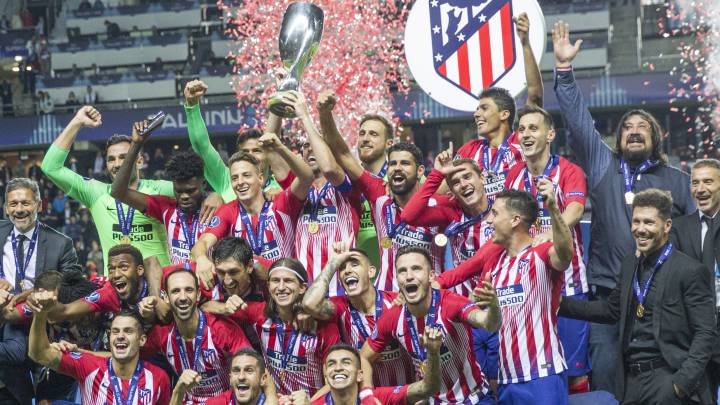 Real Sociedad the first Spnaish Super Cup winners
The Spanish Super Cup was contested for the first time between October and December 1982. In the first edition of the competition, league champions Real Sociedad beat the Copa del Rey holders Real Madrid 4-1. Out of the first eight editions, only four went ahead - it was cancelled in 1986 and 1987 as the Federation were unable to find a suitable date to stage it; in 1984 and 1989 there was no need to contest the trophy as Athletic Club and Real Madrid had both won the double and so were automatic winners.
Teams who have been invited to take part in the Super Cup
On 1 March 1996, when both finalists of that year's Copa del Rey were known, the RFEF decided to invite both the eventual winners and the runners-up to take part in the Super Cup - in case LaLiga and the Copa del Rey were won by the same club.
Atlético-Barça in 1996. Atlético Madrid completed the double in 1995-96 and met invited guests Barcelona (Copa del Rey runners-up) for a two-legged final in August 1996. That was the first of six occasions which featured an invited team - and the first that a guest team actually won the trophy (Barcelona won 6-5 on aggregate in 1996, Mallorca won in 1998 and Athletic Club in 2015). Curiously, while the 1996 final was held over two legs, neither Barcelona nor Atlético played at their own stadiums. The first leg was held at the old Olímpico in Montjuïc with the return leg at La Peineta - Madrid's proposed Olympic stadium which was later transformed into the Wanda Metropolitano.
Barcelona have won the most Spanish Super Cups
After 35 editions, Barça are the club to have won the Spanish Super Cup most times (13):
13 Barcelona,
10 Real Madrid,
3 Deportivo,
2 Atlético Madrid, Athletic Club
1 Real Zaragoza, Mallorca, Real Sociedad, Sevilla and Valencia.
Super Cup derbies
Atlético and Real Madrid have met in the Spanish Super Cup (2014) and also in the European Super Cup (2018) - Atleti winning on both occasions. Simeone's team won 2-1 over two legs and again four years later, 4-2 after extra-time in Tallin in what was Julen Lopetegui's first official game as Real Madrid coach.
Atlético-Real Madrid, the overall balance
Out of the 274 official games between Atlético and Madrid, Los Blancos come out on top with 140 victories and 473 goals scored, while Atleti have 68 wins and 348 goals. However in finals between the two, it is Atleti who have the advantage - winning five and losing three.
Zidane - plays finals, wins them
Zidane has never lost a final as a coach. He has won all 10 of the finals he has played from the dug-out - winning three Champions League finals, two Club World Cup finals, two European Super Cup finals and one Spanish Super Cup final. His figures against Atlético couldn't be more equal: two victories, fives draws and two defeats in nine official meetings.
Simeone with a chance to overtake Luis Aragonés
If victorious in Jeddah tonight, Diego Simeone could claim his eighth trophy as coach at Atlético, which would see him eclipse the seven won by Luis Aragonés (which includes Atleti being crowned Second Division champions in 2001-02) and make him the most successful coach in club history club. Only Miguel Muñoz (14 trophies with Real Madrid), Pep Guardiola (14 with Barcelona), Johan Cruyff (11 with Barcelona), Luis Enrique (9 with Barcelona) and Ferdinand Daucik (8 with Barcelona) lie ahead of him in the most successful coaches ranking in Spanish football.