SPANISH SUPER CUP
Atlético Madrid player ratings vs Real Madrid: Spanish Super Cup
Atlético battled well but lost in the end in familiar circumstances. Oblak was good, Correa remains electric and Thomas Partey had an interesting on too.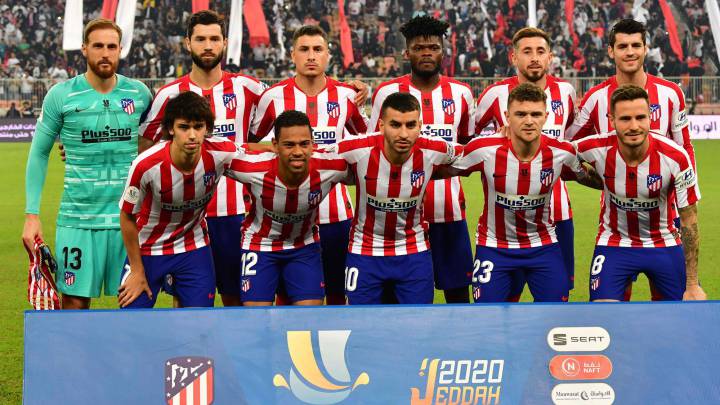 Oblak: Rejected Modric and Mendy in the first half but didn't have much to do. Double save from Modric and Mariano in extra-time too. Had a couple of miscommunications with Felipe and Gimenez. On the ball with crosses into the box too. Top game before the penalties, but even those were very well taken - 8.
Trippier: Didn't have a comfortable afternoon with Mendy constantly attacking his side of the field. Beautiful pass into Morata, who should have made it 1-0 in the second half. Scored his penalty - 7.
Felipe: Very secure at the back and in the air. Got booked after 27 minutes for a foul on Jovic, which seemed soft. Did well to prevent the Serbian striker from finding space and it a wall at the back, a wonderful signing for Atlético - 7.
Gimenez: Returned to the starting team after losing the semi-final. Did well to help Lodi when needed, often being deployed as a left-back. A couple of timely tackles when it mattered. Taken off after a physically demanding game and showed his frustration - 6.
Lodi: Unsure at the back with Valverde and Carvajal teaming up on him. Madrid sought that side of the field to take advantage. During the second half, he suffered less defensively but his involvement didn't change. In attack, he supported his teammates but didn't create much danger. Left the field after 87 minutes for Llorente - 5.
Thomas: Heavily involved in the middle and used it well to break lines. Found Morata after 20 minutes to create danger. Took excessive risk on occasion and committed some basic errors even though he is the only player in Atlético's team who can do what he does. Booked after 74 minutes for a foul on Rodrygo. Tried to catch Courtois out with a free from distance late on. Penalty saved by Courtois in the shoot-out - 7.
Herrera: Started again after the injury to Koke. Strong in the middle and fought well for the ball but wasn't precise enough to steady things for Atletico in the middle. Replaced by Vitolo after an hour - 6.
Correa: Very good again for Atletico and quick to cover ground on the right. Created danger on numerous occasions. Had a number of of chances late on as Real Madrid struggled to get to grips with him. Pure electric - 8.
Saúl: Left midfielder, worked hard defensively and tried to get involved in attack. Tried with a chilena from distance at one point too. Not precise with his use of the ball. Played in the double pivot after Herrera was replaced by Vitolo and then went out to left-back. He had a lot more say in the middle of the field and tried to unbalanace Madrid. Hit his penalty off the post - 6.
Joao Felix: Very involved at the start of the game. Had a good chance when he stepped in front of a Ramos pass but his shot went wide. As time went by he moved out to the right. Fouled a lot of times. When he did have chances, he wasn't definitive enough. Beautiful backheel to set Vitolo up. Taken off after 100 minutes as Atlético's last change - 7.
Morata: A mixed bag of a game. Has a clear chance and he set it up for Courtois to save with a weak shot at the near post. Battled all night with Morata and they had quite the scrap. Shot just wide after 20 minutes and had another on 106 minutes that Courtois saved. Might have scored if it weren't for Valverde's foul on him that provoked a red card - 7.
Substitutes
Vitolo: Subbed on for Herrera after 56 minutes. Played on the left and caused some damage as usual. Tried Courtois in extra-time but the Belgian rejected him. Lost the ball late on. Always looking to link play in attack and constantly dangerous with his dribbling - 6.
Llorente: Changed late on for Lodi. Added some strength to the middle after losing Herrera and then Saul as he went left-back. Important in helping out the defense and got into a good position in Madrid's penalty area but lost out - 6.
Savic: Came on to give Gimenez a break after 97 minutes. Booked for a bit of a row with Carvajal. Had one nice headed clearance but little else.
Arias: Replaced Joao Felix but didn't have time to add much.