SPANISH SUPER CUP
Real Madrid player ratings vs Atlético: Spanish Super Cup
The Belgian stopped everything including a penalty from Thomas Partey, Fede Valverde won the MVP and Ramos scored the winning penalty.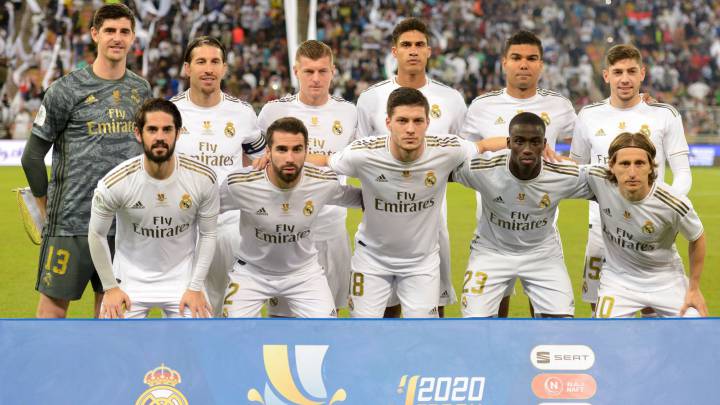 Real Madrid player ratings after 120 minutes and penalties in Jeddah as they won the Spanish Super Cup final against Atlético Madrid.
Courtois: Continued his fime form with a number of saves in this game and one in the penalty shoot-out. Rejected Morata in the second half from close range. Made another save from a dangerous chance form a corner - 9.
Carvajal: More concerned with not losing anything going backwards than driving forwards. Missed out in the play that saw Valverde sent off and got booked afterwards. Took responsibility with the first penalty and scored - 7.
Varane: Left the battle between Morata and Ramos between them. No chances from dead balls, which have become his speciality - 6.
Ramos: Started with a very bad mistake that should have seen Felix score. He slotted home the penalty to win the game though. Battled all night with Morata and neither men backed down - 8.
Mendy: One of his best games for Madrid, if not the best. Had a good shot after getting inside Trippier and was constantly looking for space on the left. More involved going forward - 9.
Casemiro: Only player from Real Madrid to pose a threat from set-pieces. Close to beating Oblak but his header landed on top of the net - 6.
Valverde: Played on the right on Zidane's instructions and caused constant problems. Best Madrid player for the first half an hour. Really made Lodi work on that side of the field and had a really good chance to put Madrid ahead on 67 although he missed it badly. Sent off, which stained his performance but if he could have directed the header in and not cynically sliced Morata down, we would be talking about a 10 out of 10 performance - 9.
Kroos: Very uncomfortable in the middle but good delivery from set-pieces. Replaced by Vinicius in extra-time - 6.
Modric: Tested Oblak with a stinger in the second half. On thin ice after what looked like a bad foul on Trippier. Not as good as he was during the Valencia game but put on a display for a 34-year-old - 7.
Isco: Tried to play between the lines, which didn't work because Atético forbade it. sacrificed after an hour as Zidane changed tact - 5.
Jovic: Just like in the semi-final against Valencia, he was castaway. His teammates didn't seem to look for him and he couldn't seem to find space either. The second half was a different story though as he struck a few times early and looked like a different player. He slowed down again though and was taken off by Zidane. Madrid have a problem with Benzema's replacement - 5.
Substitutes
Rodrygo: Zizou brought him on to stretch the field as the game started to become more open. He had the chance to win it but his shot didn't have enough power to trouble Oblak. Absolutely buried his penalty - 8.
Mariano: Looked lively when he came on despite not playing all year. Had a header late on and another chance in extra-time. Not sure if he can add anything but certainyl made a difference on Sunday night in Jeddah - 7.
Vinicus: Zidane brought him on in the second half of extra-time but he didn't have time to do much.