R. MADRID 0 (4) - 0 (1) ATLÉTICO MADRID
Valverde wins Spanish Super Cup final MVP
Despite being sent off for a professional foul to prevent Morata scoring, the Real Madrid man was chosen by Spain coach Luis Enrique and his staff as the man of the match.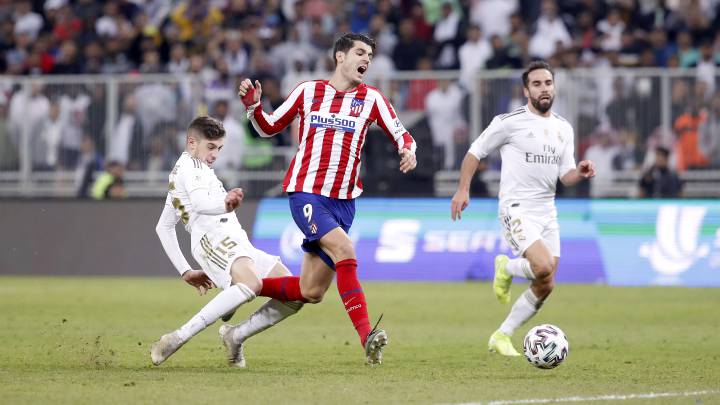 Real Madrid's Federico Valverde was recognised as the the Spanish Super Cup final's MVP, with Zidane's side winning the trophy 4-1 on penalties after the match ended 0-0 after extra-time.
Valverde, who shone throughout the match, was sent off after 115 minutes of the match, when he brought down Morata from behind, with the Atlético Madrid man in a clear goal scoring position, running through alone on goal with just Courtois to beat.
Valverde made absolutely sure he brought the Atleti forward down, and received his marching orders, but was still recognised as the match's MVP. Valverde's decision of course likely ensured that Real Madrid made it into the penalty shoot-out, where they triumphed.
Valverde spoke after the match:

Deliberate foul on Morata
Just as everyone saw it. It's something you shouldn't do. They are fellow footballers who are playing for the other side. I said sorry to Álvaro [Morata]. It's not good to do what I did, but I was the last man. I tried to do something else, but I couldn't get there. I'm happy about the title, but I'm left with a bad feeling because what I did wasn't good.
Reception in the Real Madrid dressing room
They congratulated me like everyone in the team. Maybe that piece of play [the red card] stood out because it was one of the last in the game. But what should stand out is every piece of play and every bit of effort from every teammate. They congratulated me and I really enjoyed it with everyone.
Zidane
He supported me in what was a sad moment. I was leaving the team a man down, but my teammates and the coaching staff gave me strength. Simeone came over too. I'm not going to say what he said, but not everyone would do that.
Real Madrid right now
I'm so happy because I'm playing. I'm at an incredible moment in my life, because in addition to winning sporting titles, I'm going to be a dad.