Real Madrid: "Zidane loves his players" - Hazard
The Belgian forward spoke to Sport/Foot Magazine, discussing a number of issues, including his first season at Madrid and what it's like working under Zidane.
Eden Hazard, still sidelined from an injury he sustained at the end of November against PSG, spoke to Sport/Foot Magazine and discussed his first season at Real Madrid. 
Was it your dream to play for Real Madrid?
Yes, it's a dream. When I started playing in my back garden it was always a club I supported. Zidane was my idol. When I saw the stadium on TV it looked magical. Also that impeccable white shirt; to me it was exceptional. We often went on family holidays to Spain, but never to Madrid - it was too far from Belgium by car. Everyone would always speak about Real when we played football on holiday and we used to watch their matches. 
Did you have the chance to join the club a few years ago?
Every year there was talk of me joining Madrid. There was never contact with the club. That started two or three years ago, when I got injured with the national side. After the 2018 World Cup I wanted to come, but Chelsea said no. It was necessary for me to stay the year Sarri was there.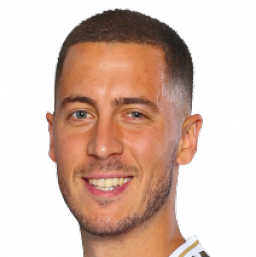 What type of coach is Zidane?
He doesn't speak much. He keeps it simple. He comes to speak to you before a game and says something short to put you at ease. The first two or three months didn't go as I would have liked, but he told me to relax. He's a normal guy and doesn't complain about anything and gets straight to the point. He loves his players and keeps that emotional side. You feel the squad are happy he's the coach, even those that don't play. That's essential and it's where you see that he understands what players' feel because he was in our shoes.  
There was talk about you putting on weight after the summer. Was any of it true? 
It's true. I won't hide it. When I'm on holiday, I'm on holiday. I put on five kilos in the summer. I'm one of those people who puts and loses weight easily. When I was 18 in Lille I weighed 72 or 73 kilos. Then I wen't up to 75 kilos when I gained muscle weight. In the summer I went up to 80 kilos but lost it in 10 days.