Varane: "Ramos finds motivations every day"
Raphael Varane discussed the influence Sergio Ramos has had on him and revealed the most important thing he has taken from the Real Madrid captain is his winning mentality.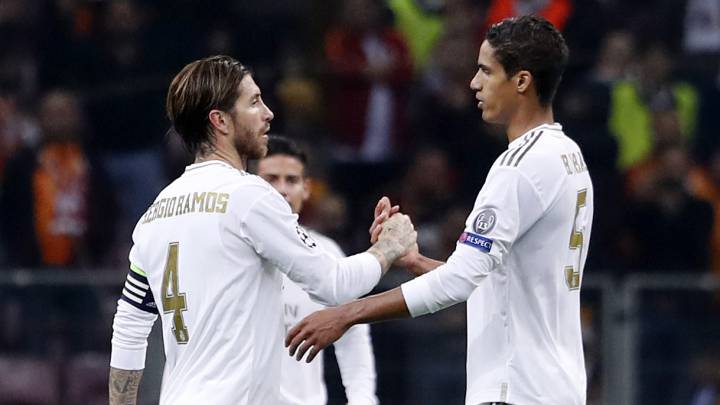 Now in his ninth season at Real Madrid, Raphael Varane is already a veteran among his team mates despite still being only 26 years old.
Currently enjoying one of his best moments at the Bernabéu, the French defender has spoken to DAZN about his goals, the influence of Sergio Ramos, Cristiano Ronaldo, facing Lionel Messi and working with Zinedine Zidane.
Quotes from Varane's DAZN interview
Goals: "The goal is always the same: win everything. Winning always makes you want to taste those emotions again and show that you can compete for the title. What I have won is more than a dream: having won so many cups is more than I expected".
Role Models: "I am inspired by players like Pepe and Sergio Ramos, defenders like me, and Cristiano Ronaldo. He is an example for any football player. I learned a lot from them. For example, from Sergio Ramos I have taken the winning mentality. He finds motivations every day, he always wants to win, even in training. He has experience and has never lost the right kind of motivation."
Real Madrid: "Being a Real Madrid player means having little margin for error. We have to know how to defend high, to pressure opponents, and this leads us to have 50 meters of the field behind us. That's why we have to have the maximum concentration."
Varane on Hazard, Messi, Zidane
Eden Hazard: "He is integrating well, he has an impressive talent. Playing with him is a pleasure, on the pitch he makes a difference."
Facing Messi: "Lionel is a special player, you cannot defend against him as you do with others. It requires a lot of attention, you have to defend as a team. You cannot afford to leave spaces."
Zinedine Zidane: "He is a great example for me. He is very calm, he always remains positive and believes in himself."
Future: "Every year here is a great challenge. I've been at Real for eight years and at the beginning of each season it's like starting from scratch. I restart to do my best."