Kubo talks Real Madrid, Mallorca and Japan
Real Madrid loanee and current Mallorca midfielder, Take Kubo, has given an interview to LaLiga where he spoke about adapting to life in Spain.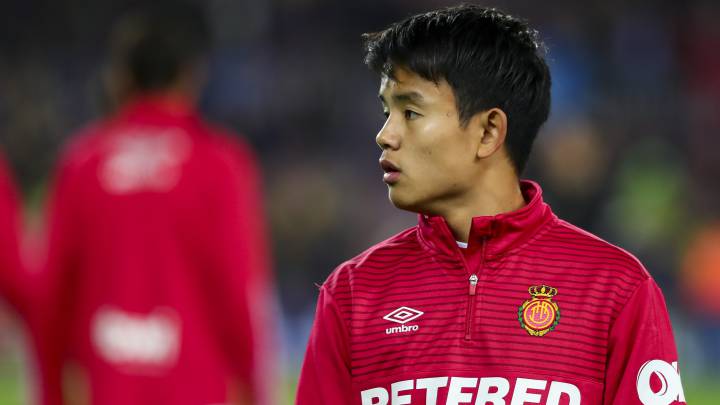 Little by little, Take Kubo is becoming an indispensable player for Mallorca coach Vicente Moreno.
Last summer, Real Madrid decided that the best option for Kubo's development was a move on loan to Mallorca and the Japanese youngster has responded well to the challenge at Son Moix. In an interview for LaLiga, the 18-year-old midfielder spoke about his adaptation at Mallorca, his arrival in Spain and the impact of training with Real Madrid.
Quotes from Kubo LaLiga interview
Following LaLiga from Japan: "When I started watching football from other leagues, I started watching the Spanish league. At that time I liked David Silva and David Villa, when Valencia were very strong. When I was little I didn't watch football because it wasn't very popular in Japan. As more Japanese come to the sport, they are watching more LaLiga games, even if the games are on at night."
Differences between Spain and Japan: "The Spanish League is much more vertical than the Japanese league. There are many more counterattacks in Spain and people live from that. The Japanese league is taking advantage of the Spanish league with the arrival of big players like Iniesta, Villa, and Samper ... That's very good for Japan because that way people see both leagues more."
Yoshito Okubo: "Changing from one country to another that is not your native country is always very difficult. I know Okubo, who played here in Mallorca, and I had the opportunity to play with him in his last year. He told me that LaLiga is very difficult, but he loved the experience."
Kubo on Real Madrid
Arriving in Spain: "I was very excited to come here, although I did not know what was going to happen. I thought I was fortunate to be at the professional level so soon, at 18 years old. They (Real Madrid) even came to Japan to speak to me about the sporting project they had planned with me. Everything was up to me, but I know that when I grow up I will have more opportunities with [Madrid]. I have to stand firm and keep growing."
Training with Madrid: "At the moment I am doing what I can and keeping it up. In training and in games, knowing the highest level of world football serves as a reference and a way to evaluate if I can get there one day. They taught me things that can be useful to me in the future."
Kubo on playing with Mallorca
Decision to join Mallorca in summer: "In principle I was going to stay in Castilla, but after the pre-season I made myself think that I could still play in a Primera Division team and in the end I got Mallorca."
Arrival in Mallorca: "They paid a lot more attention to me than other clubs. They talked to me about how much they loved me (laughs). I'm getting used to it little by little, although it was hard for me to understand the norms both on the field and off it. They've been playing the same game and the same rules for two years and I was the rookie. It took me a little while, well rather a long time, but with the help of teammates and the coaching staff I am adapting. I've taken on board what I have to do and understand what people are asking of me: to play the best game of my life always and, in attack, help the team by scoring, giving assists or setting up key plays – and in defence, not forgetting the fundamental concepts we have."
Mallorca's poor away record: "When we play away from home we lack something and the opponents take advantage of that. It is clear: we need a victory and everything will change from there."
Playing in Mallorca's 1-0 win against Real Madrid in October: "It was a bit weird because I had shared the pre-season with them and when I came on Vinicius greeted me and it was weird at first. Then I got into the game and when it was over I was very happy like the rest of the team."
Best position: "My ideal position I think would be the attacking midfielder, but I adapt to the position I am asked to play by the coach. Now I am playing on the wing and I am very comfortable."
Qualities as a footballer: "My main characteristic is receiving the ball between the lines and start dribbling from there. It's not that scoring is my weakness, but to score a goal I have to be calmer at the final part of the play. But now that I have achieved a goal I think that I will be calmer."