REAL MADRID
Real Madrid: James can't find his place
Between injuries and managerial decisions, James has failed to take advantage of his second chance at the club and is out again for the Sevilla game.
James Rodríguez takes one step forward and one step back at Real Madrid. After returning to the squad for the Super Cup and playing for 13 minutes in the semi-final against Valencia, Zidane has left him out of the squad for Sevilla. The Colombian is not injured but is getting used to spending more time in the stands than he is on the field. Meanwhile, his name is on the agenda for several European clubs with Carlo Ancelotti keeping tabs on him as he starts to build his Everton side. Real Madrid have discarded the possibility of a January exit.
After returning from Bayern in the summer, he has been in and out of Zidane's plans. The 28-year-old had one foot in the door at Atlético before the 3-7 defeat at the hands of Simeone's side put the kibosh on that move. He slowly started to earn playing time and started the season with four appearances in five games -- all four of them starts. Between injuries and managerial decisions, however, he returned to square one.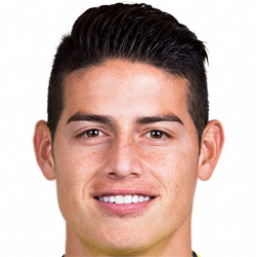 The last three months have not been easy for James. In October, he played his last game as a starter against Mallorca. Zidane made some changes for the game and it was a game that changed his trajectory. He has only played 24 minutes since.
After the Mallorca defeat, Zidane played him for 11 minutes against Galatasaray. After that, he travelled to Colombia for the birth of his child and he was injured at that time too although the club never released a statement. He missed the Leganés, Betis, Galatasaray and Eibar games. Respite came in the form of the international break and James trained with his country and injured himself again. "They aren't injured but they're not available," said Zidane about James and Bale as their continued absences raised questions. "They still haven't trained with the team and they can't play tomorrow." He injured a ligmant in his knee and missed a month before getting the all-clear on 19 December but Zidane left him out of the squad for the Athletic Bilbao game and against Getafe.
A lot has changed since James last played a role at Real Madrid and now he has to do a lot of catching up. Fede Valverde has exploded onto the scene and Kroos is revitalised. Isco is a regular feature again and there is a lot of competition for time. While he trained during the week, James has lost more ground and is excluded from the 19-man panel named to play Sevilla.