Martínez Munera was right to disallow De Jong's goal
Diario AS's resident referee Iturralde González feels Martínez Munera made the correct call to rule out De Jong's goal: "It's a foul, not obtruction".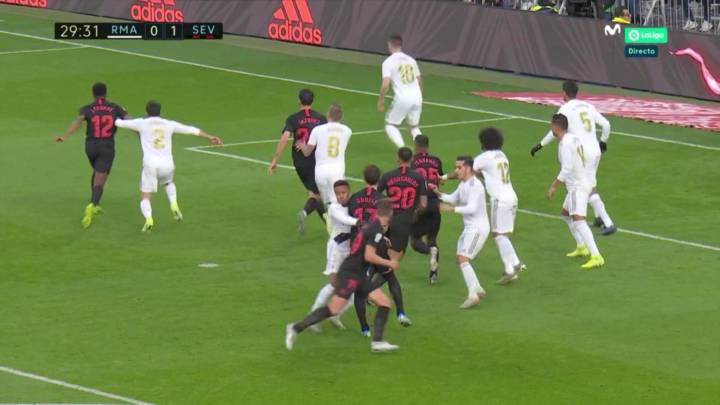 The first half of this afternoon's meeting between Real Madrid and Sevilla didn't go by without controversy. On the half hour, Éver Banega's corner was met by an unmarked Luuk de Jong at the far post - his header flew past a helpless Thibaut Courtois.
VAR review rules out De Jong goal
However, the goal was registered on the Bernabéu scoreboard but referee Martínez Munuera decided to revise the move on the pitchside VAR monitor. The ref felt that Gudelj had obstructed Militao inside the penalty area as the corner was about to be taken. The Sevilla player stood still, blocking Militao from making his run to cover De Jong. After watching a replay on the monitor, the Catalan referee decided to disallow the goal.
Eduardo Iturralde González, resident referee at Diario AS and Carrusel Deportivo, felt the ref made the right call: "Obstruction is an offence in football. The Sevilla player makes a slight move to block the path of the Madrid player. But that is not why the goal should not have stood. It is actually a foul. You can't revise every incident of obstruction through VAR, the foul is committed by the player who moves into the defender's way, causing him to fall".