Real Madrid: Dani Carvajal, booking-free for the Madrid derby
The right-back was shown his fifth yellow card against Sevilla and will miss Sunday's game against Valladolid. He will start with a clean slate for the derby on 1 February.
Dani Carvajal will go into next month's Madrid derby against Atlético with a clean disciplinary slate. The right-back will miss next Sunday's home game against Valladolid through suspension after picking up his fifth yellow card against Sevilla yesterday. Carvajal was booked on 87 minutes for wasting time. He obviously knew it meant he has completed a cycle as he was captured casting a cheeky wink in Militão's direction.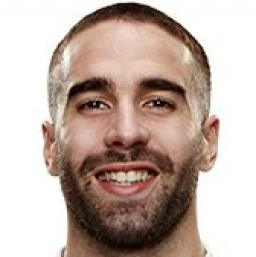 Sunday's visit from Valladolid will be the second game that Carvajal has missed this season for accumulation of bookings. He miss the opening day meeting with Celta for a suspension which had been carried over from last season.