1

0
Messi steers Barça to victory in Setien's first game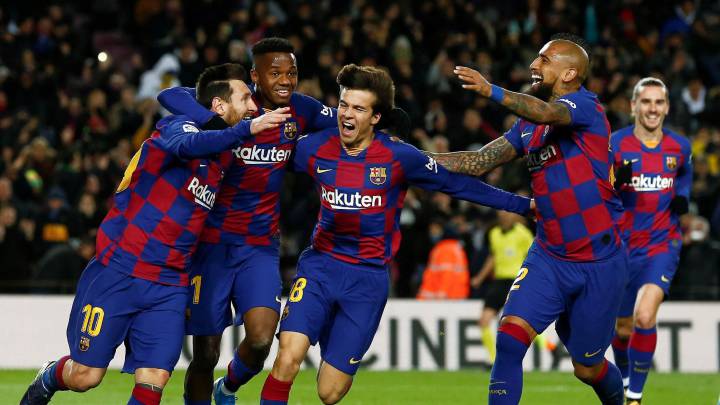 Barcelona vs Granada: as it happened!
GAME OVER!
Setien's first game and first win as the manager of Barcelona. Messi with the goal in the second half after German Sanchez had been sent off. Wasn't always easy but Barcelona found a way through.
Machis tries his luck but Ter Stegen gets behind it and saves.
Messi cross into the box. Headed out.
Ball sent into the box and it's headed clear as Barcelona break.
Foul by Puig on Gonalons as Granada try desperately to get an equaliser. Down to 10 men but can they do it?
Ball out to Griezmann from Puig and he drives it into the side netting.
Carles Perez with a foul on Machis now as he tries to break up the field.
Messi looking for his second. Tries to curl it into th top corner and it's saved by Rui Silva.
Incredible goal! Messi with the finish. Puig to Busquets, and he played to Messi. The Argentine sweeps it to Vidal and he backheels into Messi. Right-footed finish.
Eteki off for Jose Antonio Martinez.
Puig on for Rakitic. Big cheer from the crowd.
German Sanchez gets a second yellow and is sent off. He clips Messi and it's Granada down to 10 men for the next 20 minutes.
Griezmann with an effort that the keeper saves. Game is opening up a little bit now but Barcelona are getting frustrated.
That was definitely Granada's bes chance of the game.
Granada hit the post! So close to the opener. Ter Stegen at full stretch and it clips the inside of the post. Eteki with the shot.
Vadillo drives the free over the bar.
Darwin Machis rounds a couple of defenders but can't get by Vidal, who takes him out of it. Free for Granada after a counter. Chance for Granada to gather themselves now and give their defenders a break.
Messi shoots! He decides to try and drill it as he was too close to goal and it's deflected out for a corner.
Free for Messi now. He's fouled by Duarte just outside the penalty area. This was made for Messi.
Alba to Messi. No way through. Fati has it taken off him by Foulquier. But Barcelona win it straight back.
Riqui Puig is warming up.
Messi down into the belly of the beast again but he's stopped this time. He gets turned upside down in the process but the referee says it was fair. Barcelona continue to probe.
Azeez is replaced by Yangel Herrera.
More mayhem in the box for Granada to deal with. They do, just about, and Umtiti puts the ball out for a throw.
Barcelona doing everything but scoring. Vidal through on the right now and his cross is blocked and cleared.
Fati offside but carries on. No linesman flag but when he shoots, he eventually gets it.
Messi goes close. Ball from Fati and Messi slips as he shoots. Just wide of the post. Rui Silva was stretching for that one.
Granada attacking now. A couple of crosses and would-be dangerous situations averted and Alba heads back to Ter Stegen in the end.
Barcelona come out quickly but Granada prevent an early attack ad Foulquier is fouled by Fati. Some relief for them.
We are back underway for the second half!
Teams emerge back onto the field. Setien taking a sip of water on the bench as Messi strolls out onto the pitch. Alba a little quicker behind him but they're back now and ready for more action.
Trademark Messi and Alba. Cut-back and Messi slams it into the side netting with his left.
Not overly inspiring from Barcelona so far. Granada containing them quite well.
Carlos Fernandez with the ball with his back to goal out on the right. Pique for company and he loses the ball under him. Throw for Barcelona.
Ball clipped over the top from Busquets and Messi reaches but can't take it down. So close to getting it in a dangerous position.
Fati through on the right again and he takes a touch that's too heavy. Lovely ball from Messi, by the way. Another cross and Granada block it for another cross.
Griezmann feeds Alba after getting the ball from Messi. Another blocked cross and it's out for another corner. Taken quickly to Messi. Busquets gets it in the middle and he launches a shot at goal.
Corner whipped in to the front post. Cleared.
Ansu Fati takes off down the right and he gets a step on Foulquier but his cross is stopped and put out for a corner.
Jordi Alba is down in a heap after getting stood on by Gonalons. He really isn't happy and has a go at the referee while he is on the ground.
Machis with the ball on his own on the left. Roberto is helped by Busquets and it's a throw. Another wasted counter by Granada.
Umtiti gets himself in a bit of a mess as Fernandez press him and it's a throw to Granada. He wants a free but no foul.
Effort for Granada as Carlos Fernandez. He pulls that one well wide and it would have had to be something extra special to beat Ter Stegen from there even if it was on target.
Azeez is fouled by Umtiti. Granada looking for a way through but none there. Ball launched into the air and Rakitic catches a knee on the back and is awarded a free.
Messi free is sent in, blocked by the wall and over the bar for a corner.
Messi on the ball again after a wonderful sliding tackle to win it back. Gonalons fouls him though and it's another free. Loads of fouls so far from the visitors. Seven in total.
Messi looking for the ball in behind again but it's out for a throw after bring blocked. Barcelona turning up the pressure. Ball across from the left from Alba and Fati misses it! He is taken out by Foulquier after that and hits the post. No penalty.
Messi with a mazy run and then a shot with a couple of defenders chasing him. Blocked and then Vidal tries a much more tame effort. Rui Silva glad of it.
Granada break. Man on the left and Griezmann steps in to win it back. Really too slow from them and it was a handy interception by Griezmann. Impressive that he was back there though as Simeone's lessons still haven't left him.
Foulquier with a foul on Fati now as Granada continue to break up the game. They really don't want Barcelona to find their flow.
Messi curls it over. Rui Silva close to it but wasn't needed in the end as it went flying over the bar.
Dangerous spot now. Messi is pulled down by Machis and the referee says that's enough for a yellow card too. A couple of fouls now for the Granada winger.
Messi with a lovely ball to Alba and he plays it first time to Fati. He blasts over as he was falling. Another decent effort but Granada swarmed him and made it a difficult chance.
They take it quick and Granada are in on the left. Cross is half-blocked and Pique heads clear.
Fati launches himself into a challenge now and Machis hits the ground. Barcelona players surround the referee and he doesn't take out a card.
Fati gets it on the right. Ball Griezmann plays him in and the shot is saved. It rebounds out to Messi but he can't get anything on it. Vidal follows that up with a shot over the bar.
Gonalons with a foul now and Barcelona have to start again.
Umtiti puts his head down and bursts forward as Carlos Fernandez catches him. Another free. Barcelona haven't really exploded out of the blocks.
Messi has the ball nicked off his foot by Machis but referee says it wasn't fair.
Barcelona work it through the middle but they lose it and Granada return the favour. Vidal outmuscles the man with the ball and Barça are back on the attack.
Granada kick us off but they can't keep the ball for very long. Barcelona with it now and Granada are pressing them. Barcelona play it cool though and hold possession.
Riqui Puig isn't starting today but Ansu Fati is. He is the beneficiary of Luis Suarez injury and Dembele should slot in there in the future but, for now, it's Fati's place to lose.
Barcelona players in the tunnel! We are about to get the Setien era underway.
This is another article, from ESPN, on how Valverde was replaced by Setien. It's an excellent piece behind the scenes and worth a read.

Setien's initial challenges as the Barcelona manager. Another article analysing the state of play at the club as Setien steps into the spotlight.
A lot happened in the last week at Barcelona. Setien was out walking amongst the cows one minute and the next he was being whisked to the Camp Nou as the new manager of one of the biggest clubs in the world!
And Arturo Vidal is also starting. Many suggested his career at Barcelona was over when Setien arrived but he has a chance to prove he can play in his system tonight. it might be because of the absences but either way, we will get to see what Vidal can do under Setien.
The big surprise in Setien's first XI is that Umtiti starts ahead of Lenglet. The chosen pair under Valverde was Lenglet and Pique but Umtiti is getting a chance to grab the place for himself tonight.
Barcelona XI: Ter Stegen, Alba, Pique, Umtiti, Sergi Roberto, Busquets, Vidal, Rakitic, Fati, Messi, Griezmann.
Granada XI: Rui Silva, Victor Diaz, German, Domingos Duarte, Foulquier, Gonalons, Eteki, Azeez, Vadillo, Machis, Carlos Fernandez.
Setien has some defensive problems to fix. Pique and Lenglet have gotten a little too comfortable with no competition for their places but Umtiti seems to be coming good if he can only stave of his injury woes.

Hello and welcome to our live online coverage of Barcelona vs Granada from the Camp Nou as Quique Setien's reign at the club begins. Kick-off at 21:00 CET.
.