Van de Beek: "There is nothing official with Real Madrid"
While reports in Holland claim that Real Madrid and Ajax have come to a deal for Van de Beek, the player himself states he has signed nothing with the LaLiga club.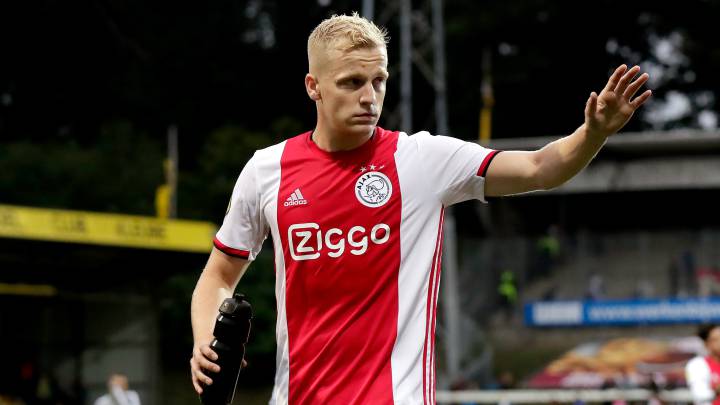 Donny Van de Beek continues to offer little in the way of clues to where his future lies.
The Dutchman has maintained his good form from last season for Ajax, providing nine goals and eight assists, and it is taken for granted that he will leave at the end of the season, following Frenkie de Jong and Matthijs de Ligt to the exit door of the Johan Cryuff Arena.
There is constant debate around his future. Real Madrid have been heavily linked with the young midfielder, while Manchester United are also interested.
However, following Ajax's 2-1 win against Sparta this weekend, Van de Beek, who scored the game's opening goal, wanted to deny that he had signed an agreement with Real Madrid, following claims that the two clubs had come to a deal for the player.
"Nothing is official. I have not signed any contract. That is the situation. That has not changed throughout the season," said the Dutch international in the mixed zone of the Johan Cryuff Arena after the game.
Van de Beek: Ajax, Real Madrid and Man Utd are all good options
The midfielder was also asked about his preference between Real Madrid and Manchester United, but declined to choose a favourite.
"I don't want to choose. They are both great clubs. As I said before, Ajax is too. Therefore, there is nothing to choose from. All of them would very good options," said the 22-year-old playmaker.
According to Dutch daily De Telegraaf, Ajax and Real Madrid have agreed to a fee of €55 million for Van de Beek, with only the signature of the player now pending.
With the signing of Paul Pogba almost impossible, the Dutch midfielder would be incorporated into Madrid's central midfield, offering another alternative for coach Zinedine Zidane from Kroos, Modric, Casemiro, Valverde, Isco and James Rodríguez.