REAL MADRID
Carvajal recounts the only time he felt fear on the football field
In an interview with GQ Spain', Carvajal explains how he felt afraid on the field at the thoughs of letting Atlético Madrid win the Champions League.
Dani Carvajal will never forget the pressure he felt before the Champions League final in 2014 against Atlético Madrid. It was "the only time" that he has felt fear on the football field such was the tension during the game.
"I think that the only time I felt some kind of fear or timidness was in the Champions League final against Atlético Madrid in 2014," he has told GQ Spain. "When I saw the game was getting away from us, with time passing without us making it count and when I saw that our big city rival was going to win the Champions League. I think this is the only time I've felt a little bit of fear on the field."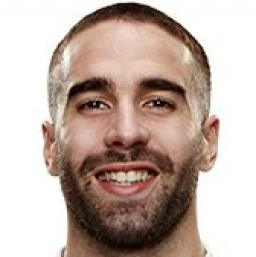 The right-back says that "it was one of the best moments" of his career. Little did he know they would go on to win three more in the coming years.
"With the confidence of the manager and my teammates, I am playing with a lot of intelligence, with the experience of the years I've played and working hard physically to be at this level," he said. "It's not easy to go from the academy to there for so many years."
The 28-year-old appreciates that he is at one of the best clubs in the world but wants to "continue with my feet on the ground". He said: "I have to know where I came from."
Carvajal is not one to search out the bright lights and told GQ that "if I have a beer with friends to chat about our lives, I do it calmly. In your group, one person will be working, another studied, but just because you have done well doesn't mean you are above anybody."
Not everyone is suited to the life and pressure that comes with playing at Real Madrid. "You have two bad games and people are questioning you," he said. "You give a bad pass and you hear the murmurs from the crowd. We know how demanding the Bernabéu is and it's complicated."
"When Zidane arrived, he implanted this philosophy," said Carvajal about the 'all for one and one for all' mentality at the club since the arrival of the manager.
"It seems like look but I think that the manager works hard, he has confidence in his players and he knows what the squad needs, how and when every player can perform and this is really good," Carvajal said.