Real Madrid: Eden Hazard returns 66 days later
The Belgian has watched as Los Blancos have gone to the summit of LaLiga in his absence, but there is no doubting that his teammates will be pleased to see him back.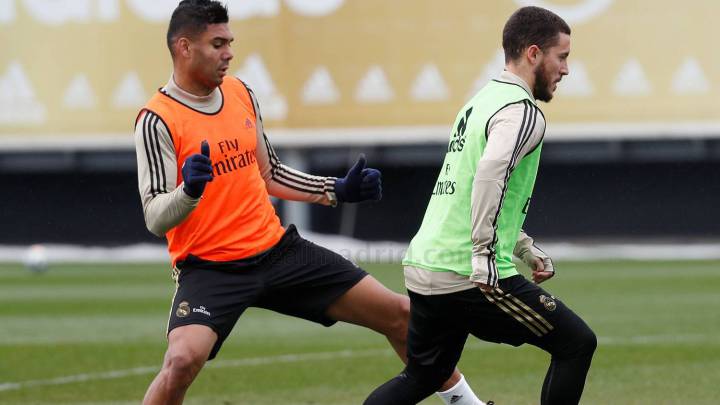 Real Madrid began their preparations for Saturday's derby with some bonus news, the return of Eden Hazard to the group's training session.
Hazard back with the boys
The Belgian was brought to the club last summer hailed as the modern galáctico, but injuries have plagued his debut season in LaLiga. The latest one has seen him absent since 26 November but on Thursday we watched as he took to the training field to exercise alongside his teammates. His workouts in the gym had already caused a frenzy on social media.
This is the first time that he has been able to do so after 66 days out, following the challenge from compatriot Meunier in the Champions League group stage match against PSG, during which the winger has missed 14 games.
Understandably, Hazard is not being called up for game against Atlético, but he is likely to see some pitchtime over the following week. This could come in the quarter-final of the Copa del Rey (their opponent will be decided on Friday), or in the league match against Osasuna on Sunday 9 February at El Sadar.
The idea is to ensure he is match sharp by the time the first leg against Man City in the Champions League Last 16 rolls around on 26 February.