COPA DEL REY
Barcelona player ratings vs Leganés
Lionel Messi had a quiet night but was involved in all five goals and Lenglet put a little distance between himself and Umtiti in the pecking order too.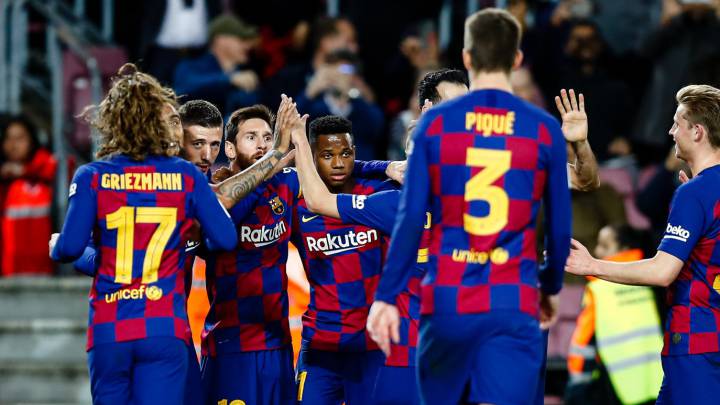 Ter Stegen: He had more work than he probably expected especially in the first half when Leganés were finding space on the counter. They had five efforts with one almost shaving the post. The German was equal to them though and never gave them hope of even a consolation - 8.
Semedo: A notable performance from the Portuguese with a role on the wing. In fact, his first real involvement was a cutback for Griezmann's goal. With his speed, he can cause all sorts of problems in that role - 8.
Piqué: Not much to write home about. Called upon a number of times to use his intelligance and tactical nous to kill space on Leganés counters. Has a little battle with Braithwait and had some problems in the first half but never under too much pressure - 7.
Lenglet: Took control back of his position with Umtiti breathing down his neck. Covered well and brought the ball out with assuredness too. Scored a nice goal and was a threat from set-pieces as he re-establishes himself beside Piqué at the back - 9.
Alba: Player on the wing again and improved with Ansu Fati ahead of him. The pair did well to cause all sorts of problems for Leganés - 7.
Sergio Busquets: Not really at the races with a couple of unforced errors. You have to recognise his ability to generate forward momentum when the team is stuck though. He remains the fulcrum of their midfield but maybe excessive confidence at times - 7.
De Jong: The Dutchman has not settled. A lovely assist for Messi does not hide the fact that this was a very mediocre performance from De Jong. Not the same player who broke lines and found spaces for Ajax last year. Barcelona need that De Jong back because right now he looks blocked and unsure - 6.
Arturo Vidal: His fighting spirit is loved by fans and that's why he got a rousing applause when he was subbed off in the second half. The Chilean keeps showing that he can play in any system basically because of his intensity in every moment. Right now, he is winning the fight in the middle against Arthur and Rakitic - 8.
Messi: Even on a quiet night, he can still score two goals and assist with a couple more. He was just ticking over and was still highly productive. Didn't assist with the first but popped it into Semedo's path for Griezmann. Delivered the ball for Lenglet's goal, scored the third himself. Arthur then scored from his rebounded effort and he scored the fifth, the best goal of the night thanks to a Rakitic through ball - 9.
Griezmann: The Frenchman continues to be important when the ice needs to be broken. The most dynamic striker on the team and could find a role as the number nine they need. Always looking to create advantages by picking up awkward positions for defenders to keep track of him - 8.
Ansu Fati: Played on the left and involved in some of the most interesting attacked by Barcelona without finishing them off. Not the explosive player he was at the start of the season and is showing his age -- he's just 17. With the lack of attackers, he will keep getting time on the field. Has to believe in himself a little more to start finishing and he'll be fine. On the right path - 6.
Substitutes:
Rakitic: Applauded by the fans as soon as he walked on the field. Lovely assist for Messi's second and Barça's fifth.
Junior: No clear path for him into the team under Valverde and it remains the same under Setién.
Arthur: Scored a goal, taking advantage of some sloppy play from Leganés. This was a feature missing from his game and we will see if he can take advantage of this cameo in the future.