Liverpool unveil iconic Paisley-Hughes statue at Anfield
This week, Liverpool honoured Bob Paisley, the most successful manager in their history with an 8ft bronze statue of him carrying an injured Emlyn Hughes off the pitch.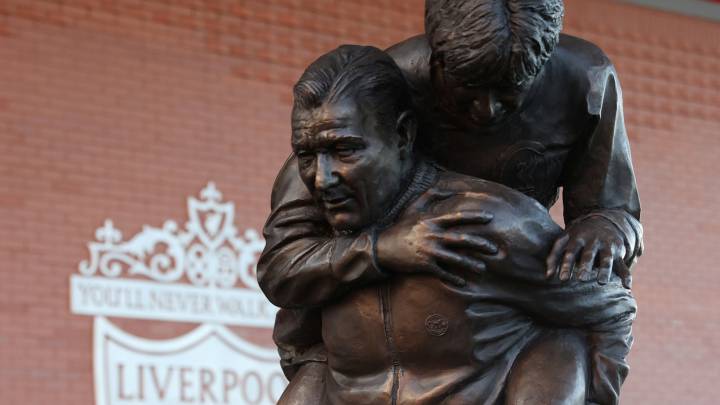 It's said that Bob Paisley could accurately gauge what kind of injury a player had just by the way he was walking (or limping... ). Long before he took over the manager's role from Bill Shankly at Liverpool in 1974, Paisley had built up a wealth of knowledge on sporting injuries as the club's physiotherapist. He knew exactly how long a player could be expect to be sidelined, and his vast knowledge of the game was invaluable in Shankly's tactical chats in Anfield's fabled 'Boot Room' – a shabby storeroom where the players' boots were kept.
Paisley was fundamental in Liverpool's emergence and subsequent domination of the game during the 1970s and 80s. And from being an astute physio, he went on to become the most successful manager in the club's history, guiding the team to the old First Division title (now the Premier League) six times and becoming the first manager to win three European Cups – a feat which Carlo Ancelotti and Zinedine Zidane have since managed to repeat.

Liverpool have honoured their former manager with a new, 8ft bronze statue which is located on the square named in Paisley's honour on the corner of the Main Stand and the Kop. It was unveiled by club CEO Peter Moore this weekend.
Iconic image of Paisley carrying Emlyn Hughes off at Anfield
The statue, commissioned by club sponsors Standard Chartered, is the work of Blurton-born sculptor Andy Edwards and is based on an iconic photo of Paisley giving an injured Emlyn Hughes a piggyback ride off the pitch during a an April 1968 meeting with Tottenham at Anfield. It's a powerful image - Hughes, the youngest member of the Liverpool team that day, trying to blank out the pain, blood gushing out of his knee - being carried off for treatment by a man more than twice his age.
Thankfully, Hughes' injury looked worse than it was. He recovered and went on to captain the team and nine years later, lift Liverpool's first European Cup, in Rome. He passed away aged 57 in 2004. Paisley retired in 1983 and passed away 13 years later, aged 77.