BARCELONA
Dembélé quits Barcelona training with muscle injury
Ousmané Dembélé quit Barcelona training on Monday as he continues to recover from a long-term injury after suffering discomfort in his leg.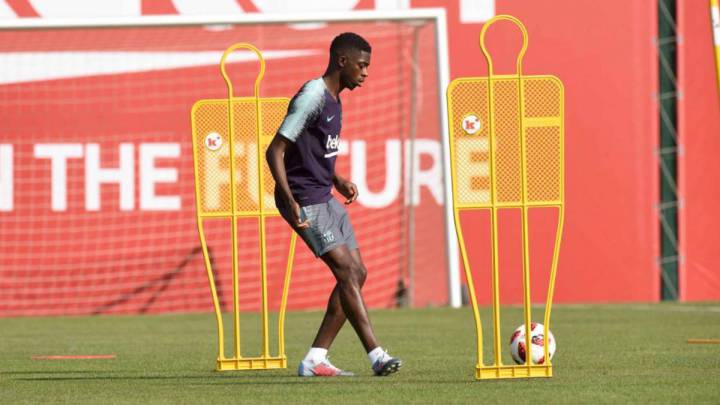 Ousmané Dembélé has been forced to quit Barcelona training on Monday with a potential fresh injury setback. The attacker is recovering from a hamstring injury that has seen him miss the past 10 weeks with a hamstring injury. He was into the last stage of his recovery process.
The 22-year-old is close to a return but watched the Levante game beside Arturo Vidal in the stands at the Camp Nou.
Dembele setback in Barça training confirmed today, per @moillorens. Hopefully nothing serious...

— Samuel Marsden (@samuelmarsden) February 3, 2020
Setién is currently dealing with several injuries with Neto, Vidal and Luis Suárez also out of contention along with Dembélé. There was hope that he might return for either the Copa clash against Athletic Club on Thursday or the game against Betis next weekend but the fresh setback might put paid to that idea.
Dembélé has suffered several muscular injuries since arriving at the club but has reprotedly taken the rehab of the current issue seriously as he comes to terms with playing at the very top level and the professionalism it requires. The latest news will come as a blow to the player as he desperately tried to get back on the field and the club as they look to fill in for the injured Luis Suárez and the recently sold Carles Pérez.