REAL MADRID
Jovic: "I look at YouTube videos of myself and ask 'what happened?'"
The Real Madrid striker admits he is not having the season he might have hoped for but says that he hopes to turn it around in the coming weeks.
Luka Jovic was interviewed in Serbia and reflected on his turn of form since joining Real Madrid. He admits it is not the season he had hoped for.
We remember your five goals against Fortuna Düsseldorf when you scored five goals. What was the moment in your career when you realised you were ready for the biggest teams?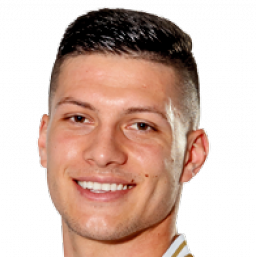 I will tell you sincerely, I never had doubts about my quality. I always believed that I had the talent for the biggest things, I always believed that I am the best. I was just waiting for a chance. At Benfica, I didn't have it but at Frankfurt, I did. And I took advantage of it because they believed in my talent. At the start at Frankfurt, it was tough but the most important thing is to believe in your ability. Sometimes, you have to have luck but I am happy. I'm happy for the chance I for at Frankfurt. We will see what happens in the future.
What was your favourite goal? 
The goal I want to focus on is the one against Schalke in the German Cup semi-final. Also, the goal against Leganés for Real Madrid because not anybody can score a goal for Real Madrid.
The biggest club in the world made an offer for you. It was report that you read the news when you were going to your house. How did it feel, can you explain it in words?
I will tell you how it was. I got a call from the manager, he told me that he had an offer from Real Madrid. I responded. Don't be pulling my leg, please. He told me again that there was an offer from Madrid and he thought it was good. I went crazy, I needed a few days to reflect on the fact that the best team in the world wanted me. It's a club you can't turn down. They only call you once in your life. I don't think I made a mistaje.
Are you aware that you're a reference for many young players who would love to be in your place?
I am aware of that. There is a negative atmosphere when people speak about my form at Real Madrid, but I believe that I will show people the reason why I am here. That I am here because I have ability and the kids can look at me for many years and motivate them with my games and goals in a Madrid jersey.
Are you active on social media? 
Not much. I just have an Instagram prodile. Before, I was more active but not I am focused just on football and I want to be back on form before too long. I am in a very difficuly period of adaptation and I have to make myself even stronger.
Does it bother you when people give opinions about you in the media?
Honestly, it doesn't. The things they write are nonsense. The most important is that the people who know me and my girlfriend know the truth. I'm not interested in the opinion of jealous people. But yes, when I open Instagram, the first thing I see is news about my private life and not the fact that I am a Real Madrid player. Serbia have to be proud to have a Real Madrid player.
You scored your first goal against Leganés, and you also gave an assist to Casemiro against Sevilla. Does this justify the manager's confidence in you?
Honestly, I'm not happy with the season, at least until now. First because I can be better. Sometimes on YouTube I see videos of me last year and I ask myself 'what happened?' But we all know that Real Madrid is a huge club and the players it's difficult for the players with experience to get used to it. And even more for 21-year-olds they have paid €60 million for. The pressure is huge, I have fought until now without success. But hope the situation changes.