Al-Thawadi: "Our aim is to organise a World Cup that is 100% safe"
The Secretary General of the Supreme Committee for Delivery and Legacy is confident of a safe event, with a protocol in place for Turkey to deploy security forces.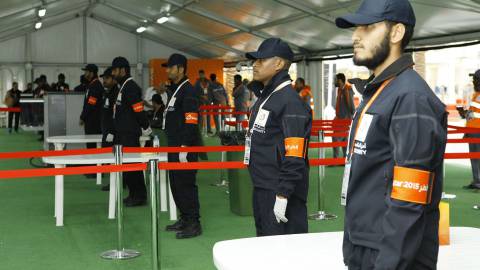 For people travelling to the Qatar 2022 World Cup, Qatar is looking to provide a fully safe environment, implemented by building agreements with agencies specialised in this area and drawing from the past experiences of countries that have hosted the competition.
Hassan Al-Thawadi and the UN
Within this framework, Hassan Al-Thawadi, Secretary General of the Supreme Committee for Delivery and Legacy, which is in charge of managing the projects and initiatives for the 2022 World Cup, confirmed that the Committee is working, globally and regionally, with the International Centre for Sport Security to host a safe World Cup.
"We are looking to provide all security measures at the 2022 World Cup, and we trust in the support of the UN, which always contributes to the development of people's lives," Al-Thawadi confirmed on a video call at the UN headquarters.
Qatar and Turkey
Qatar have signed a security protocol with Turkey which outlines the deployment of the Turkish security forces while the Qatar World Cup is being held, and Swiss newspaper Nordic Monitor highlighted a Turkish-Qatari agreement in which both parties have signed a bilateral agreement in the area of hosting major sporting events, in addition to exchanging experiences in the field of security. The paper also mentioned how the agreement seeks to ensure a strategic collaboration to prepare for the World Cup, the world's biggest competition, and to manage all security-related issues.