REAL MADRID
Kroos: "I won't be playing until I'm 38"
Toni Kroos says the winning of titles is an addiction and he says that while Madrid's level dropped one percent in recent years, it makes a massive difference.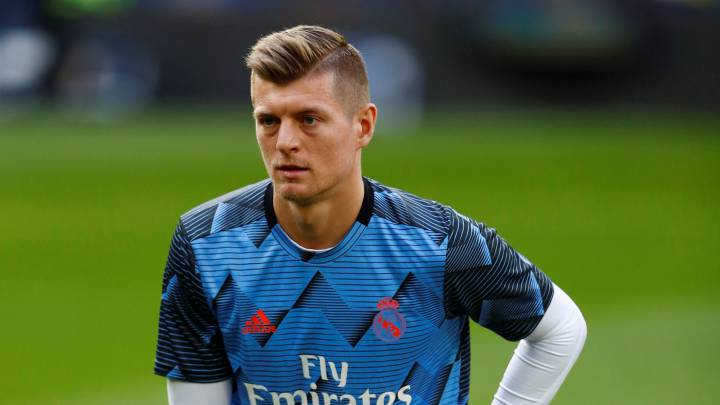 Real Madrid's central midfielder, Toni Kroos, spoke to German outlet Sportschau Club and spoke about his role at Real Madrid and the German team. The player spoke about winning as many titles as he could before hanging up his boots.
Six years at Real Madrid: "I still have the feeling of hos special it is. The affection towards me as a person has been huge since my first day. I have had the luck of showing thanks to them for that with my performances on the field. Everything can go in the other direction too, I know. The three Champions Leagues didn't have a bad effect on how I was viewed either. I've been working on my standing at the club for the last six years and the the clubs can speak well of me."
The end of your career: "I always said I wouldn't be playing until I was 38. I have three and a half years of contract left, until the sumer of 2023. I'll be 33 then, a good age to think about things without having a four-year contract. It won't continue much after that."
Plans for the end of your career: "The plan was always to return to Germany, but we've been here for five and a half years here and enjoying it. Some of our kids go to school and they're the same as us, they're happy. At the end, it'll be the kids who make the decision. If they are happy and they have friends it, it will be difficult to take them away from that. I don't have any preference. My home is where my family is. And after I hang up my boots, I could stay in Madrid without a doubt."
Hunger for titles: "I don't too much yet because you build an addiction to winning games, titles and to be successful. If you do it once, you want to do it again. The best example was the Champions League. It wasn't normal to win three times. It was there that we realised the hunger in the team. It might have been less in the last couple of season, but this makes you notice that even if the performance is just one percent lower, it's not good enough. This hunger is coming back without knowing where it might take us. It's not a guarantee that we will win titles again without stopping but the probability is increasing."
Euros with Germany: "We don't see oursevles amongst the favourites. We have to be honest with ourselves and admit that it will be more difficult than it used to be. We will not head into the competition with the thoughts of winning one game because that's not who we are. That's no use to me. My objective is to win every competition I play in."